760924 - Letter to Jayatirtha written from Vrndavana
From Vanisource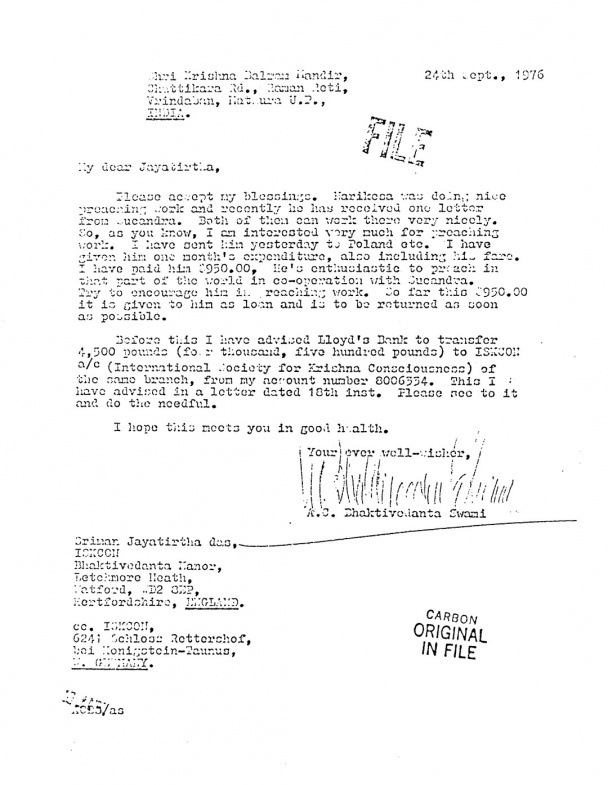 Shri Krishna Balaram Mandir
Chattikara Rd., Raman Reti,
Vrindaban, Mathura U.P.,
INDIA
24th Sept., 1976
My dear Jayatirtha,

Please accept my blessings. Harikesa was doing nice preaching work and recently he has received one letter from Sucandra. Both of them can work there very nicely. So, as you know, I am interested very much for preaching work. I have sent him yesterday to Poland etc. I have given him one month's expenditure, also including his fare. I have paid him $950.00. He's enthusiastic to preach in that part of the world in co-operation with Sucandra. Try to encourage him in preaching work. So far this $950.00 it is given to him as loan and is to be returned as soon as possible.
Before this I have advised Lloyd's Bank to transfer 4,500 pounds (four thousand, five hundred pounds) to ISKCON a/c (International Society for Krishna Consciousness) of the same branch, from my account number 8006334. This I have advised in a letter dated 18th inst. Please see to it and do the needful.
I hope this meets you in good health.
Your ever well-wisher,


 
A.C. Bhaktivedanta Swami

Sriman Jayaritha das,
ISKCON
Bhaktivedanta Manor,
Letchmore Heath,
Watford, WD2 8EP
Hertfordshire, ENGLAND.
cc. ISKCON,
6241 Schloss Rettershof,
bei Königstein-Taunus,
W. GERMANY
ACBS/as