Radharani

Krishna

Caitanya

God

God's Holy Names

Krishna Consciousness Movement

Who Is Srila Prabhupada

his Timeline

Months in his Life

Training his Disciples

Questions

Bhagavad-gita

Devotees of God

Devotional Service to God

Discipleship

Guru / Acharya

Essential Subjects

Nectar Drops

What's in Vanipedia now

Glorious Personalities

Yoga

Collaborate with us to invoke and fully manifest Srila Prabhupada's Vani-presence.
---
760820 - Letter to Sampath Kumar written from Hyderabad
From Vanisource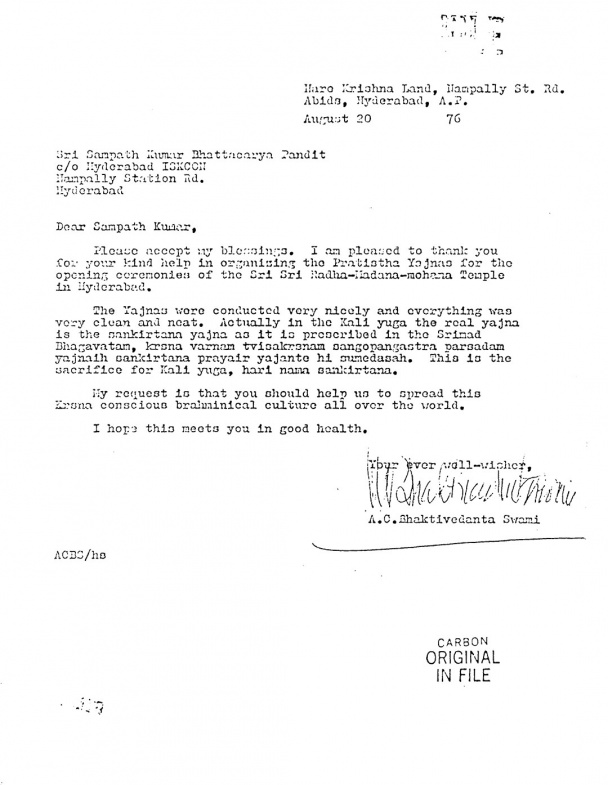 August 20, 1976

Sampath Kumar Bhattacarya Pandit
c/o Hyderbad ISKCON
Hyderabad
Dear Sampath Kumar,
Please accept my blessings. I am pleased to thank you for your kind help in organizing the Pratistha Yajnas for the opening ceremonies of the Sri Sri Radha-Madana-mohana Temple in Hyderabad.
The Yajnas were conducted very nicely and everything was very clean and neat. Actually in the Kali yuga the real yajna is the sankirtana yajna as it is prescribed in the Srimad-Bhagavatam,
krsna varnam tvisakrsnam
sangopangastra parsadam
yajnaih sankirtana prayair
yajante hi sumedasah
(SB 11.5.32)
This is the sacrifice for Kali-yuga, harinama sankirtana.
My request is that you should help us to spread this Krsna conscious brahminical culture over the world.
I hope this meets you in good health.
Your ever well-wisher,
A.C. Bhaktivedanta Swami
ACBS/hs