760816 - Conversation A - Hyderabad
From Vanisource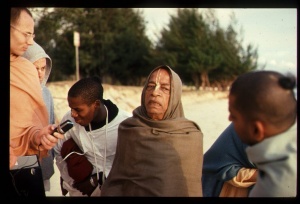 760816R1-HYDERABAD - August 16, 1976 - 07:19 Minutes

Hari-śauri: That's all right. Okay. You're recording this.
Devotee: What about to pause it, though? (break)
Prabhupāda: Ek book hai. Summer bad me pida ho jata hai . . . Raat me kuch thand me hota hai isliye wearing night dress . . . (There is one book. Summer becomes suffering later on . . . in the night it becomes cold so I am wearing a night dress . . .)
Indian man: Itna garmi hai? (Is it so hot?)
Prabhupada: Han bilkul kharab ho gaya hai par ise kuch parvah nahi hai wo to gaay ka . . . khayenge. Wo samajh lijiye hara ho jaye, pila ho jaye hum to gaay khakar . . . (Yes, it has become very bad but it doesn't matter they . . . cow's . . . eat. Try to understand that it becomes green, it becomes yellow, we will eat beef . . .) They are thinking, "Let it be green or yellow, it doesn't matter. We shall cut the source of this animal . . . (indistinct) . . ." But how long is that animal, if there is no greenness? They are already cutting the animals premature. There is no. Unko khane jayenge to . . . ek koi expert cook humko dijiye na. Ye hamare liye bhojan banayega. Aap to kuch jante nahi hai paka ke jo kuch deta hai khane ko. (If we go to eat them . . . give me some expert cook, he will cook for us. You don't know anything, he will cook for us and serve us.)
Indian man: Nahi Maharaj, aap jaisa hukm denge accha mil jayega. (No Mahārāja, they way you wish, we will get a good one.)
Prabhupada: To dijiye na . . . (indistinct) . . . accha khana banayega. Jitna din rahega thoda seekh lega. Usko paisa bhi dena hai. (Then give a cook. He will cook well. He will learn in the number of days he is here. We must pay him.)
Indian man: Ek expert lady cook hai yahan. usko utsav me bheja tha, sabko bana kar deti thi . . . kal raat se accha bhojan nahi karna chahiye, raat ko kya kiya jaye. Allahabad me experience ho gaya hai ki kitna choti se choti aeroplane bhagvan banya ahai with pilot. (There is one expert lady cook here. I had sent her for one of the festivals. She used to cook for everyone . . . I haven't had good food since yesterday, what to do at night. In Allahabad I had that experience. God has created such a minute airplane with the pilot.) Very small. Minute. Just like construction of aeroplane with the pilot still? Answer him. Ask the scientist.
Indian man: Mai subah char baje aaya tha. Wo raat ko char baje ka alarm lagaya tha. Subah aake dekha tha to light khula tha. (I came in the morning at 4 o'clock. I kept the alarm for 4. When I came and saw in the morning the light was on.)
Prabhupada: Baitho. Wo bolta nahi usko bula ke dijiye. (Sit down. He doesn't say to call him and give him.)
Indian man: . . . (indistinct Hindi)
Prabhupada: Mai dedh baje bhojan karta hoon. aur ye log bhi thoda seekh le. (I have my lunch at 1.30pm and these people can also learn something.) Among the whole world she knows this.
Prabhupāda: Pulikā.
Indian man: Yes. She has gone yesterday.
Harikeśa: She learned here.
Indian man: Wo yahin seekhi maharaj. 2-3 saal pehle first pandal . . . (She learnt here only Mahārāja. 2 to 3 years ago when there was the first pandal . . .) she was staying here and she was coming very often and learning from all these ladies.
Indian lady: (Telugu)
Prabhupāda: . . . (indistinct Hindi)
Indian man: Swast theek nahi hai. Jo hai sab bhakt hain. (I am not keeping good health. All present here are devotees.)
Prabhupada: So we shall go now?
Hari-śauri: Yes, everything's ready. (break)
Prabhupāda: Aur 'paschim disha sadachar aur uttar disha ghar ka paar' He is Bengali. "Dakshin disha ghare reh ja purab disha ghar ka punja" wo garmi me garam aur sardi me bhaut thand jo ki avoid karna, dakshin disha best option. Bheetar me thand rahega aur outside me garam. (And it becomes very hot in summer and very cold in winter which must be avoided, the southern direction is the best option. It will be cold inside and hot outside.) Because the sun passes . . .
Indian man: East to west.
Prabhupāda: East to west. Dakshinayana. Where is Mahāṁśa Mahārāja? He is not here?
Devotee: Can somebody go find Mahāṁśa?
Devotee (2): He was here. Just probably bringing some things for you.
Prabhupāda: That's all right. So? We have got the key? Not here.
Devotee: . . . (indistinct)
Prabhupāda: So, kīrtana Karo, kirtan karo. (Perform kirtana.) (kīrtana) (end)