760726 - Letter to Jayapataka written from Bhaktivedanta Manor, UK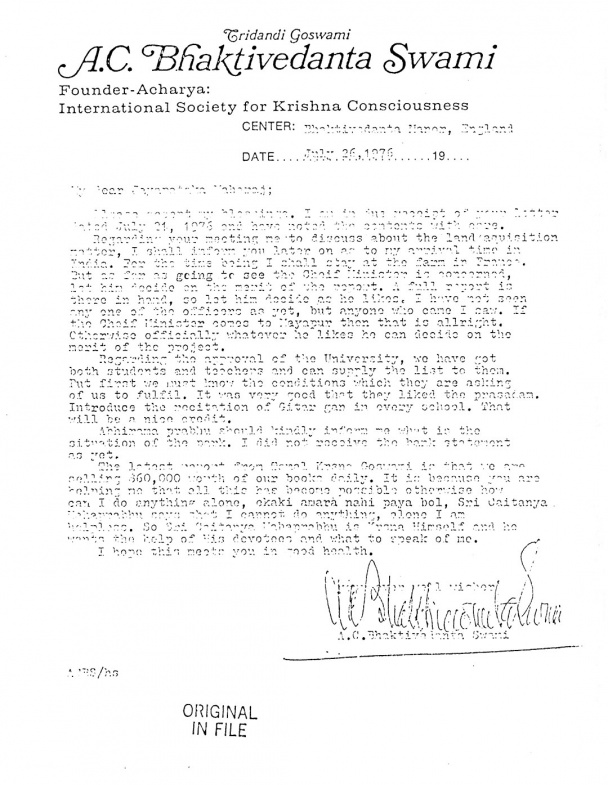 Tridandi Goswami
A.C. Bhaktivedanta Swami
Founder-Acharya:
International Society for Krishna Consciousness

CENTER: Bhaktivedanta Manor, England
DATE .....July.26,1976.......19.....

My Dear Jayapataka Maharaj;
Please accept my blessings. I am in due receipt of your letter dated July 21, 1976 and have noted the contents with care.
Regarding your meeting me to discuss about the land acquisition matter, I shall inform you later on as to my arrival time in India. For the time being I shall stay at the farm in France. But as far as going to see the Chief Minister is concerned, let him decide on the merit of the report. A full report is there in hand, so let him decide as he likes. I have not seen any one of the officers as yet, but anyone who came I saw. If the Chief Minister comes to Mayapur then that is all right. Otherwise officially whatever he likes he can decide on the merit of the project.
Regarding the approval of the University, we have got both students and teachers and can supply the list to them. But first we must know the conditions which they are asking of us to fulfill. It was very good that they liked the prasadam. Introduce the recitation of Gitar Gan in every school. That will be a nice credit.
Abhirama prabhu should kindly inform me what is the situation of the park. I did not receive the bank statement as yet.
The latest report from Tamal Krsna Goswami is that we are selling $60,000 worth of our books daily. It is because you are helping me that all this has become possible otherwise how can I do anything alone, ekaki amara nahi paya bol, Sri Caitanya Mahaprabhu says that I cannot do anything, alone I am helpless. So Sri Caitanya Mahaprabhu is Krsna Himself and he wants the help of His devotees and what to speak of me.
I hope this meets you in good health.