760714 - Letter to Saurabha written from New York
From Vanisource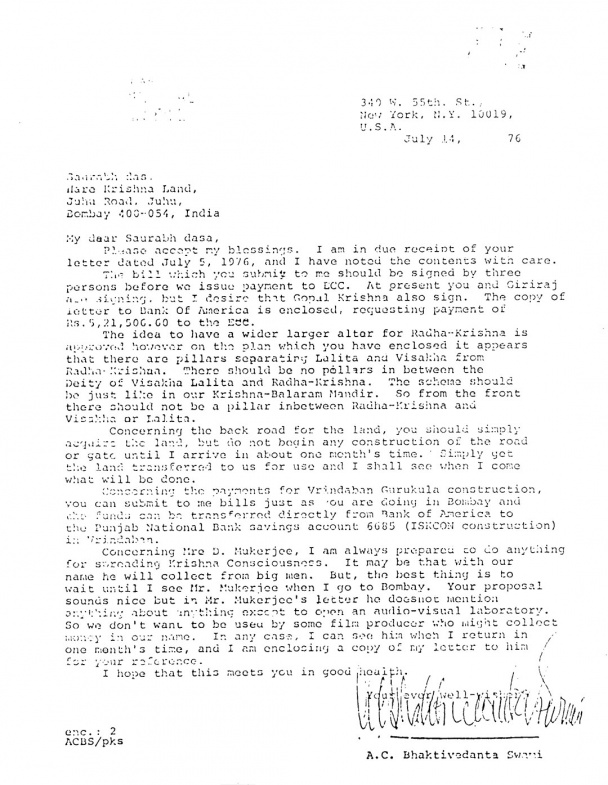 340 W. 55th. St.,
New York, N.Y. 10019,
U.S.A.
July 14,           1976


Saurabha Das,
Hare Krishna Land,
Juhu Road, Juhu.
Bombay 400-054, India
My Dear Saurabh dasa,
Please accept my blessings. I am in due receipt of your letter dated July 5, 1976, and I have noted the contents with care.
The bill which you submit to me should be signed by three persons before we issue payment to ECC. At present you and Giriraj are signing, but I desire that Gopal Krishna also sign. The copy of letter to Bank of America is enclosed, requesting payment of Rs. 5,21,506.60 to the ECC.
The idea to have a wider larger altar for Radha-Krishna is approved however on the plan which you have enclosed it appears that there are pillars separating Lalita and Visakha from Radha-Krishna. There should be no pillars in between the Deity of Visakha Lalita and Radha-Krishna. The scheme should be just like in our Krishna-Balaram Mandir. So from the front there should not be a pillar in between Radha-Krishna and Visakha or Lalita.
Concerning the back road for the land, you should simply acquire the land, but do not begin any construction of the road or gate until I arrive in about one month's time. Simply get the land transferred to us for use and I shall see when I come what will be done.
Concerning the payments for Vrindaban Gurukula construction, you can submit to me bills just as you are doing in Bombay and the funds can be transferred directly from Bank of America to the Punjab National Bank savings account 6685 (ISKCON construction) in Vrindaban.
Concerning Mr. D. Mukerjee, I am always prepared to do anything for spreading Krishna Consciousness. It may be that with our name he will collect from big men. But, the best thing is to wait until I see Mr. Mukerjee when I go to Bombay. Your proposal sounds nice but in Mr. Mukerjee's letter he does not mention anything about anything except to open an audio-visual laboratory. So we don't want to be used by some film producer who might collect money in our name. In any case, I can see him when I return in one month's time, and I am enclosing a copy of my letter to him for your reference.
I hope that this meets you in good health.
Your ever well-wisher,



A.C. Bhaktivedanta Swami
enc.: 2
ACBS/pks