760714 - Letter to Gopala Krishna written from New York
From Vanisource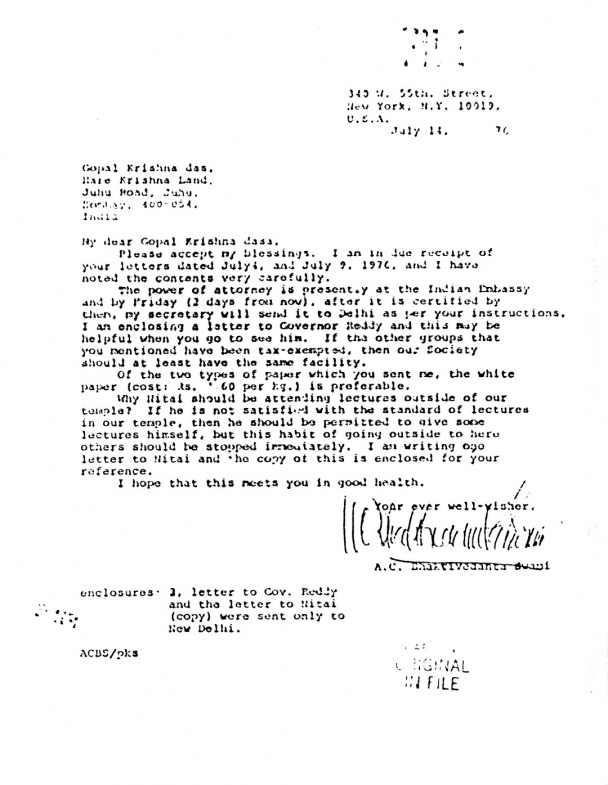 340 W. 55th. Street,
New York, N.Y. 10019,
U.S.A.
July 14, 76

Gopal Krishna das,
Hare Krishna Land,
Juhu Road, Juhu,
Bombay, 400-054
India
My dear Gopal Krishna dasa,
Please accept my blessings. I am in due receipt of your letters dated July 4, and July 9, 1976, and I have noted the contents very carefully.
The power of attorney is presently at the Indian Embassy and by Friday (2 days from now), after it is certified by them, my secretary will send it to Delhi as per your instructions. I am enclosing a letter to Governor Reddy and this may be helpful when you go to see him. If the other groups that you mentioned have been tax-exempted, then our Society should at least have the same facility.
Of the two types of paper which you sent me, the white paper (cost: Rs. [unclear] 4.60 per kg.) is preferable.
Why Nitai should be attending lectures outside of our temple? If he is not satisfied with the standard of lectures in our temple, then he should be permitted to give some lectures himself, but this habit of going outside to hear others should be stopped immediately. I am writing one letter to Nitai and the copy of this is enclosed for your reference.
I hope that this meets you in good health.
Your ever well-wisher,



A.C. Bhaktivedanta Swami
enclosures: 3, letter to Gov. Reddy and the letter to Nitai (copy) were sent only to New Delhi.
ACBS/pks