760711 - Letter to Bishambhar Dayal written from New York
From Vanisource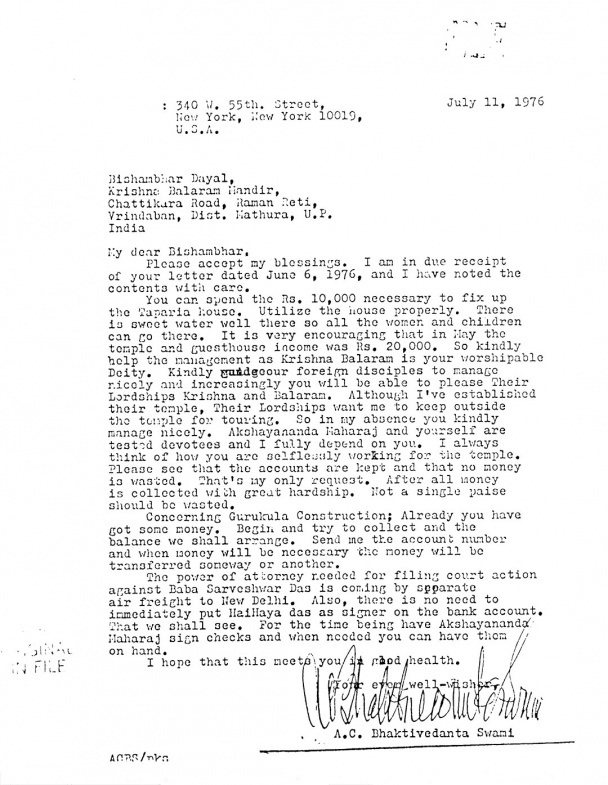 July 11, 1976
340 W. 55th. Street,

New York, New York 10019,
U.S.A.

Bishambhar Dayal,
Krishna Balaram Mandir,
Chattikara Road, Raman Reti,
Vrindaban, Dist. Mathura, U.P.
India

My dear Bishambhar,
Please accept my blessings. I am in due receipt of your letter dated June 6, 1976, and I have noted the contents with care.
You can spend the Rs. 10,000 necessary to fix up the Taparia house. Utilize the house properly. There is sweet water well there so all the women and children can go there. It is very encouraging that in May the temple and guesthouse income was Rs. 20,000. So kindly help the management as Krishna Balarama is your worshipable Deity. Kindly guide our foreign disciples to manage nicely and increasingly you will be able to please Their Lordships Krishna and Balarama. Although I've established their temple, Their Lordships want me to keep outside the temple for touring. So in my absence you kindly manage nicely. Akshayananda Maharaj and yourself are tested devotees and I fully depend on you. I always think of how you are selflessly working for the temple. Please see that the accounts are kept and that no money is wasted. That's my only request. After all money is collected with great hardship. Not a single paise should be wasted.
Concerning Gurukula Construction; Already you have got some money. Begin and try to collect and the balance we shall arrange. Send me the account number and when money will be necessary the money will be transferred someway or another.
The power of attorney needed for filing court action against Baba Sarveshwar Das is coming by separate air freight to New Delhi. Also, there is no need to immediately put HaiHaya das as signer on the bank account. That we shall see. For the time being have Akshayananda Maharaj sign checks and when needed you can have them on hand.
I hope that this meets you in good health.
Your ever well-wisher,



A.C. Bhaktivedanta Swami
ACBS/pks