760604 - Letter to Narayana written from Los Angeles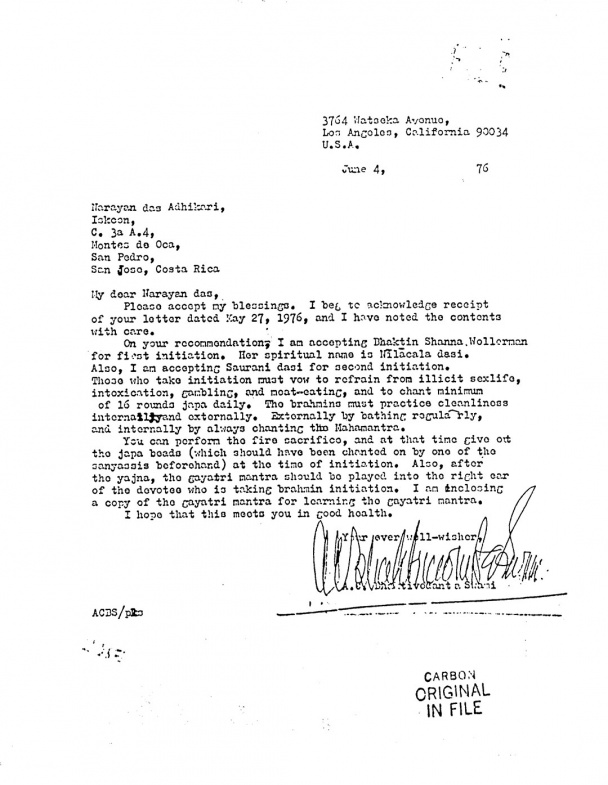 3764 Watseka Avenue,
Los Angeles, Califonria 90034,
U.S.A.
June 4, 76
Narayana Das Adhikar,
Iskcon,
C. 3a. A.4,
Montes de Oca,
San Pedro,
San Joso, Costa Rica
My dear Narayan das,
Please accept my blessings. I beg to acknowledge receipt of your letter dated May 27, 1976, and I have noted the contents with care.
On your recommendation, I am accepting Bhaktin Shanna Wollerman for first initiation. Her spiritual name is Nilacala dasi. Also, I am accepting Saurani dasi for second initiation. Those who take initiation must vow to refrain from illicit sex life, intoxication, gambling, and meat-eating, and to chant minimum of 16 rounds japa daily. The brahmanas must practice cleanliness internally and externally. Externally by bathing regularly, and internally by always chanting the Mahamantra.
You can perform the fire sacrifice, and at that time give out the japa beads (which should have been chanted on by one of the sannyasis beforehand) at the time of initiation. Also, after the yajna, the gayatri mantra should be played into the right ear of the devotee who is taking brahmana initiation. I am enclosing a copy of the gayatri mantra for learning the gayatri mantra.
I hope that this meets you in good health.
Your ever well-wisher,
[signed]
A.C. Bhaktivedanta Swami
ACBS/pks