760523 - Letter to Nityananda written from Honolulu
From Vanisource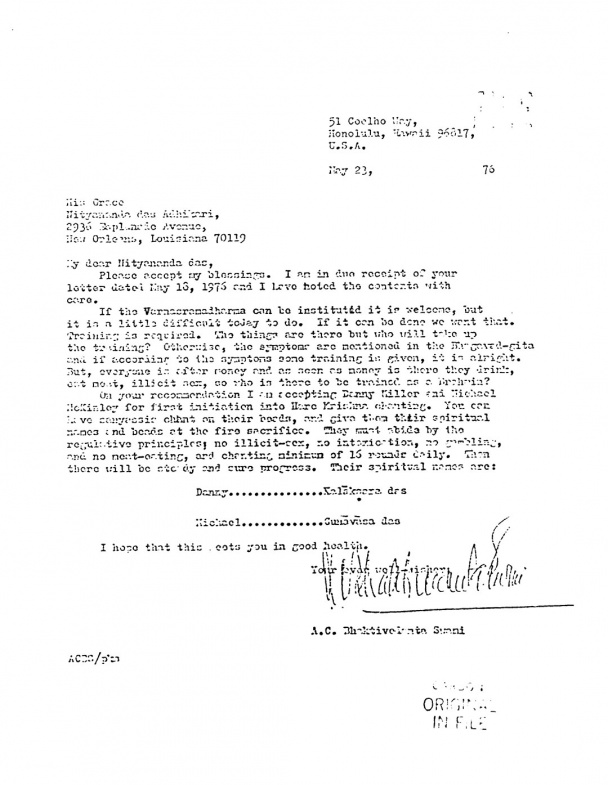 51 Coolho Way.,
Honolulu, Hawaii 96817,
U.S.A.

May 23,      76

His Grace
Nityananda das Adhikari,
2936 Esplanrio Avenue,
New Orlens, Louisiana 70119


My dear Nityananda das,

Please accept my blessings. I am in due receipt of your letter dated May 18, 1976 and I have noted the contents with care.
If the Varnasramadharma can be instituted it is welcome, but it is a little difficult today to do. If it can be done we want that. Training is required. The things are there but who will take up the training? Otherwise, the symptoms are mentioned in the Bhagavad-gita and if according to the symptoms some training is given, it is alright. But, everyone is after money and as soon as money is there they drink, eat meat, illicit sex, so who is there to be tained as a Brahmin?
On your recommendation I am accepting Danny Miller and Michael McKinly for first initiation into Hare Krishna chanting. You can have sannyasis chant on their beads, and give them their spiritual names and beads at the fire sacrifice. They must abide by the regulative principles; no illicit-sex, no intoxication, no gambling, and no meat-eating, and chanting minimum of 16 rounds daily. Then there will be steady and sure progress. Their spiritual names are:
Danny..................Kalaksara das
Michael................Gunavasa das

I hope that this meets you in good health.

Your ever well-wisher,



A.C. Bhaktivedanta Swami


ACBS/pks