760515 - Letter to Yasomatisuta written from Honolulu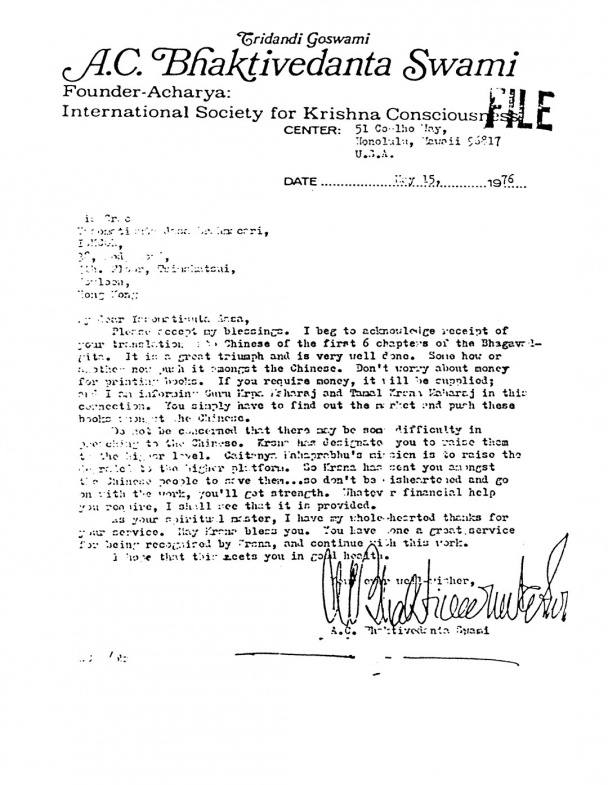 Tridandi Goswami
A.C. Bhaktivedanta Swami
Founder-Acharya:
International Society for Krishna Consciousness
CENTER: 51 Coelho Way,
Honolulu, Hawaii, 96817
U.S.A.
Date ...May...15,..1976
His Grace
Yasomatisuta das Brahmacari,
ISKCON,
38, Mody Road,
4th. Floor, Tsimshatsui,
Kowloon,
Hong Kong
My dear Yasomatisuta das,
Please accept my blessings. I beg to acknowledge receipt of your translation into Chinese of the first 6 chapters of the Bhagavad-gita. It is a great triumph and is very well done. Some how or another now push it amongst the Chinese. Don't worry about money for printing books. If you require money, it will be supplied; and I am informing Guru Krpa Maharaj and Tamal Krsna Maharaj in this connection. You simply have to find out the market and push these books amongst the Chinese.
Do not be concerned that there may be some difficulty in preaching to the Chinese. Krsna has designated you to raise them to the higher level. Caitanya Mahaprabhu's mission is to raise the degraded to the higher platform. So Krsna has sent you amongst the Chinese people to save them . . . so don't be disheartened and go on with the work, you'll get strength. Whatever financial help you require, I shall see that it is provided.
As your spiritual master, I have my whole-hearted thanks for your service. May Krsna bless you. You have done a great service for being recognized by Krsna, and continue with this work.
I hope that this meets you in good health.
Your ever well-wisher,



A.C. Bhaktivedanta Swami
ACBS/pks