Radharani

Krishna

Caitanya

God

God's Holy Names

Krishna Consciousness Movement

Who Is Srila Prabhupada

his Timeline

Months in his Life

Training his Disciples

Questions

Bhagavad-gita

Devotees of God

Devotional Service to God

Discipleship

Guru / Acharya

Essential Subjects

Nectar Drops

What's in Vanipedia now

Glorious Personalities

Yoga

Collaborate with us to invoke and fully manifest Srila Prabhupada's Vani-presence.
---
760506 - Letter to Brisakapi written from Honolulu
From Vanisource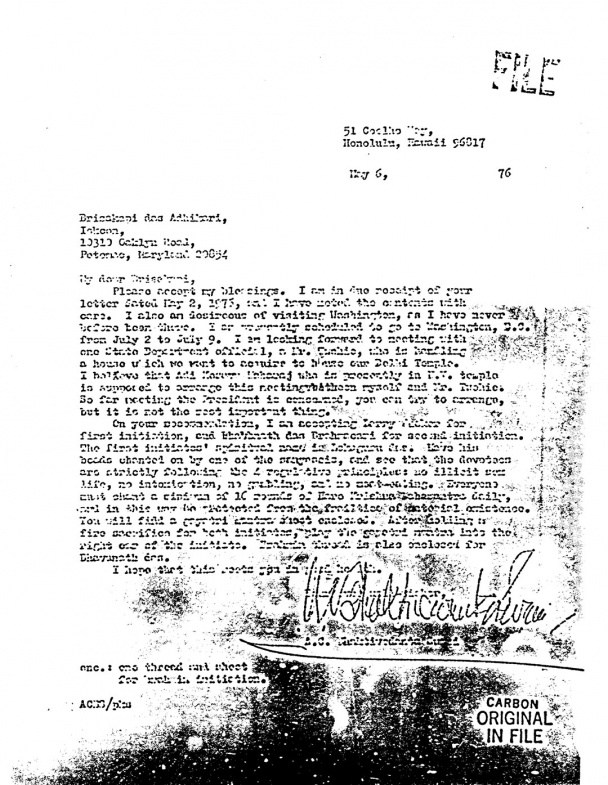 May 06, 1976

Potomac, Maryland
My dear Brisakapi,
Please accept my blessings. I am in due receipt of your letter dated May 2, 1976, and I have noted the contents with care. I also am desirous of visiting Washington, as I have never before been there. I am presently scheduled to go to Washington, D.C. from July 2 to July 9. I am looking forward to meeting with one State Department official, a Mr. Twohi, who is handling a house which we want to acquire to house our Delhi Temple. I believe that Ādi Kesava Maharaja who is presently in N.Y. temple is supposed to arrange this meeting between myself and Mr. Twohie. So far meeting the President is concerned, you can try to arrange, but it is not the most important thing.
On your recommendation, I am accepting Larry Tucker for first initiation, and Bhavanath das Brahmacari for second initiation. The first initiates' spiritual name is Lokaguru das. Have his beads chanted on by one of the sannyasis, and see that the devotees are strictly following the 4 regulative principles: no illicit sex life, no intoxication, no gambling, and no meat-eating. Everyone must chant a minimum of 16 rounds of Hare Krishna Mahamantra daily, and in this way be protected from the frailties of material existence. You will find a gayatri mantra sheet enclosed. After holding a fire sacrifice for both initiates, play the gayatri mantra into the right ear of the initiate. Brahmin thread is also enclosed for Bhavanath das.
I hope that this meets you in good health.
Your ever well-wisher,
A.C. Bhaktivedanta Swami
enc.: one thread and sheet for brahmana initiation.
ACBS/pks