760205 - Letter to Sukadeva written from Mayapur
From Vanisource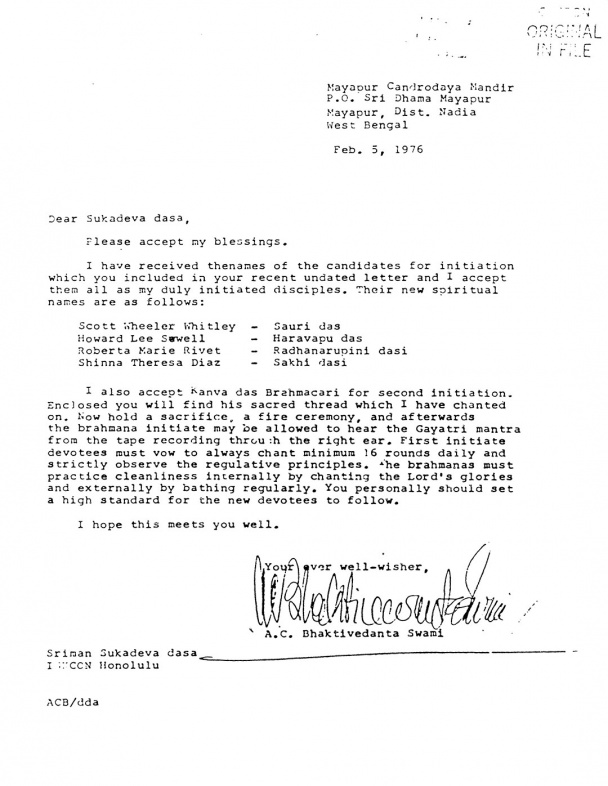 Mayapur Candrodaya Mandir
P.O. Sri Dhama Mayapur
Mayapur, Dist. Nadia
West Bengal
Febr. 5, 1976

Dear Sukadeva dasa,
Please accept my blessings.
I have received the names of the candidates for initiation which you included in your recent undated letter and I accept them all as my duly initiated disciples. Their new spiritual names are as follows:
Scott Wheeler Whitley—Sauri das
Howard Lee Sewell—Haravapu das
Roberta Marie Rivet—Radhanarupini dasi
Shinna Theresa Diaz—Sakhi dasi
I also accept Kanva das Brahmacari for second initiation. Enclosed you will find his sacred thread which I have chanted on. Now hold a sacrifice, a fire ceremony, and afterwards the brahmana initiate may be allowed to hear the Gayatri mantra from the tape recording through the right ear. First initiate devotees must vow to always chant minimum 16 rounds daily and strictly observe the regulative principles. The brahmanas must practice cleanliness internally by chanting the Lord's glories and externally by bathing regularly. You personally should set a high standard for the new devotees to follow.
I hope this meets you well.
Your ever well wisher,



A.C. Bhaktivedanta Swami
Sriman Sukadeva dasa
ISKCON Honolulu

ACBS/dda