760203 - Letter to Rajani Mirasayakula written from Mayapur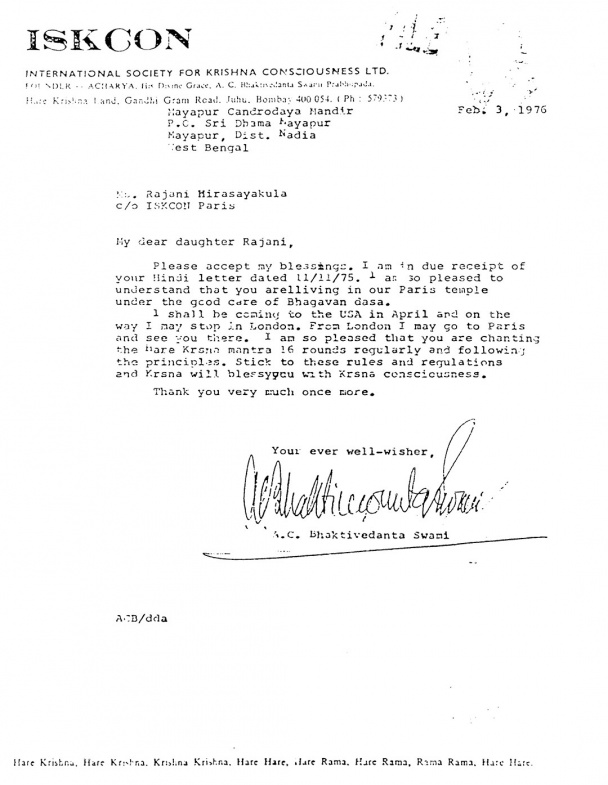 ISKCON
INTERNATIONAL SOCIETY FOR KRISHNA CONSCIOUSNESS LTD.
FOUNDER-ACHARYA. His Divine Grace. A.C. Bhaktivedanta Swami Prabhupada.
Hare Krishna Land, Gandhi Gram Road, Juhu. Bombay 400 054. (Ph: 579373)
Feb. 3, 1976
Mayapur Chandrodaya Mandir
P.O. Sri Dham Mayapur
Mayapur, Dist. Nadia
West Bengal

Ms. Rajani Mirasayakula
c/o ISKCON Paris

My dear daughter Rajani,

Please accept my blessings. I am in due receipt of your Hindi letter dated 11/11/75. I am so pleased to understand that you are living in our Paris temple under the good care of Bhagavan dasa.
I shall be coming to the USA in April and on the way I may stop in London. From London I may go to Paris and see you there. I am so pleased that you are chanting the Hare Krsna mantra 16 rounds regularly and following the principles. Stick to these rules and regulations and Krsna will bless you with Krsna consciousness.
Thank you very much once more.
Your ever well-wisher,
[Signed]
A.C. Bhaktivedanta Swami
ACB/dda

Hare Krishna, Hare Krishna, Krishna Krishna, Hare Hare, Hare Rama, Hare Rama, Rama Rama, Hare Hare.