760113 - Letter to Yamuna and Dinatarine written from Calcutta
From Vanisource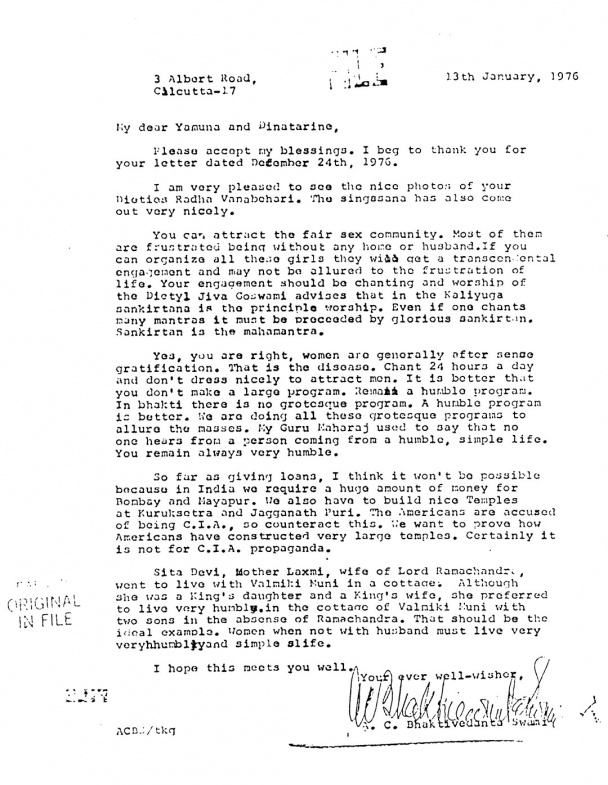 3, Albert Road,
Calcutta-17
13th January, 1976

My Dear Yamuna and Dinatarine,
Please accept my blessings. I beg to thank you for your letter dated December 24th, 1976.
I am very pleased to see the nice photos of your Deities Radha Vanabehari. The singasana has also come out very nicely.
You can attract the fair sex community. Most of them are frustrated being without any home or husband. If you can organize all these girls they will get a transcendental engagement and may not be allured to the frustration of life. Your engagement should be chanting and worship of the Deity Jiva Goswami advises that in the Kaliyuga sankirtana is the principle worship. Even if one chants many mantras it must be preceded by glorious sankirtana. Sankirtana is the maha-mantra.
Yes, you are right, women are generally after sense gratification. That is the disease. Chant 24 hours a day and don't dress nicely to attract men. It is better that you don't make a large program. Remain a humble program. In bhakti there is no grotesque program. A humble program is better. We are doing all these grotesque programs to allure the masses. My Guru Maharaj used to say that no one hears from a person coming from a humble, simple life. You remain always very humble.
So far as giving loans, I think it won't be possible because in India we require a huge amount of money for Bombay and Mayapur. We also have to build nice Temples at Kuruksetra and Jagannatha Puri. The Americans are accused of being C.I.A., so counteract this. We want to prove how Americans have constructed very large temples. Certainly it is not for C.I.A. propaganda.
Sita Devi, Mother Laksmi, wife of Lord Ramachandra, went to live with Valmiki Muni in a cottage. Although she was a King's daughter and a King's wife, she preferred to live very humbly in the cottage of Valmiki Muni with two sons in the absence of Ramachandra. That should be the ideal example. Women when not with husband must live very very humbly and simple life.
I hope this meets you well.
Your ever well-wisher,



A.C. Bhaktivedanta Swami
ACBS/tkg