751123 - Letter to Miss P. Boodhena written from Bombay
From Vanisource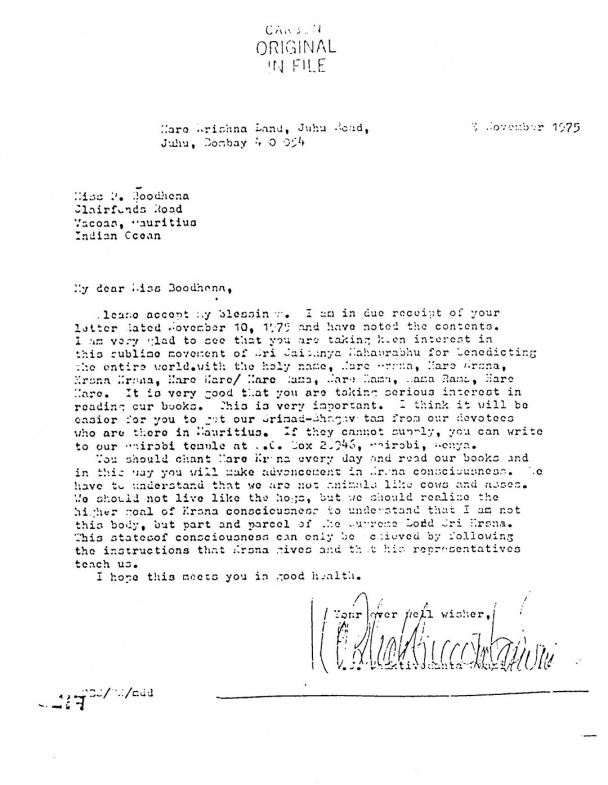 November 23, 1975
Hare Krishna Land, Juhu Road,
Juhu, Bombay 400 054


Miss P. Boodhena
Clairfonds Road
Vacoas, Mauritius
Indian Ocean


My dear Miss Boodhena,
Please accept my blessings. I am in due receipt of your letter dated November 10, 1975 and have noted the contents. I am very glad to see that you are taking keen interest in this sublime movement of Sri Caitanya Mahaprabhu for benedicting the entire world with the holy name, Hare Krsna, Hare Krsna, Krsna Krsna, Hare Hare, Hare Rama, Hare Rama, Rama Rama, Hare Hare. It is very good that you are taking serious interest in reading our books. This is very important. I think it will be easier for you to get our Srimad-Bhagavatam from our devotees who are there in Mauritius. If they cannot supply, you can write to our Nairobi temple at P.O. Box 28946, Nairobi, Kenya.
You should chant Hare Krsna every day and read our books and in this way you will make advancement in Krsna consciousness. We have to understand that we are not animals like cows and asses. We should not live like the hogs, but we should realize the higher goal of Krsna consciousness to understand that I am not this body, but part and parcel of the Supreme Lord Sri Krsna. This state of consciousness can only be achieved by following the instructions that Krsna gives and that his representatives teach us.
I hope this meets you in good health.

Your ever well wisher,



A.C. Bhaktivedanta Swami
ACBS/BS/mdd