751022 - Letter to Giriraja written from Johannesburg
From Vanisource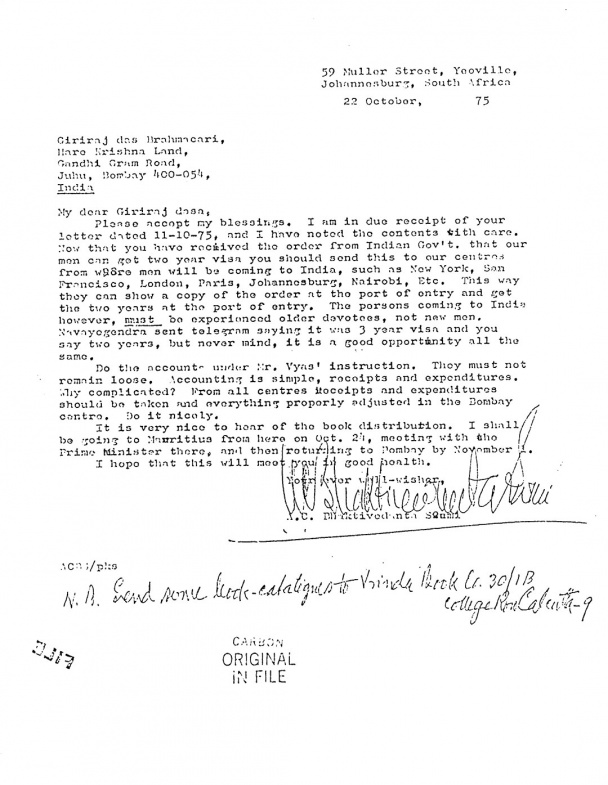 59 Muller Street, Yeoville,
Johannesburg, South Africa
22 October,           75

Giriraj das Brahmacari,
Hare Krishna Land,
Gandhi Gram Road,
Juhu, Bombay 400-054,
India
My dear Giriraj dasa,
Please accept my blessings. I am in due receipt of your letter dated 11-10-75, and I have noted the contents with care. Now that you have received the order from Indian Govt. that our men can get two year visa you should send this to our centres from where men will be coming to India, such as New York, San Francisco, London, Paris, Johannesburg, Nairobi, Etc. This way they can show a copy of the order at the port of entry and get the two years at the port of entry. The persons coming to India, however, must be experienced older devotees, not new men. Navayogendra sent telegram saying it was 3 year visa and you say two years, but never mind, it is a good opportunity all the same.
Do the account under Mr. Vyas' instruction. They must not remain loose. Accounting is simple, receipts and expenditures. Why complicated? From all centres receipts and expenditures should be taken and everything properly adjusted in the Bombay centre. Do it nicely.
It is very nice to hear of the book distribution. I shall be going to Mauritius from here on Oct. 24, meeting with the Prime Minister there, and then returning to Bombay by November 1.
I hope that this will meet you in good health.
Your ever well-wisher,



A.C. Bhaktivedanta Swami

ACBS/pks
N.B. Send some book-catalogs to Vrinda Book Co. 30/1b College Row Calcutta-9 [handwritten]