751017 - Letter to Gopijanavallabha written from Johannesburg
From Vanisource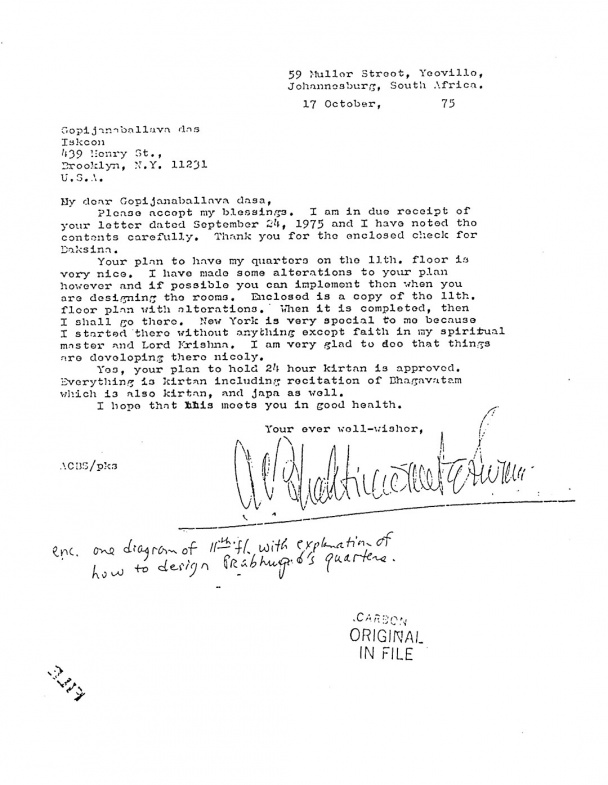 59 Muller Street, Yeoville,
Johannesburg, South Africa.
17 October,             75

Gopijanaballava das
Iskcon
439 Henry St.,
Brooklyn, N.Y. 11231
U.S.A.
My dear Gopijanaballava dasa,
Please accept my blessings. I am in due receipt of your letter dated September 24, 1975 and I have noted the contents carefully. Thank you for the enclosed check for Daksina.
Your plan to have my quarters on the 11th. floor is very nice. I have made some alterations to your plan however and if possible you can implement then when you are designing the rooms. Enclosed is a copy of the 11th. floor plan with alterations. When it is completed, then I shall go there. New York is very special to me because I started there without anything except faith in my spiritual master and Lord Krishna. I am very glad to see that things are developing there nicely.
Yes, your plan to hold 24 hour kirtan is approved. Everything is kirtana including recitation of Bhagavatam which is also kirtan, and japa as well.
I hope that this meets you in good health.
Your ever well-wisher,



ACBS/pks
enc. one diagram of 11th with explanation of how to design Prabhuji's quarters. [handwritten]