750929 - Letter to Hansadutta written from Ahmedabad
From Vanisource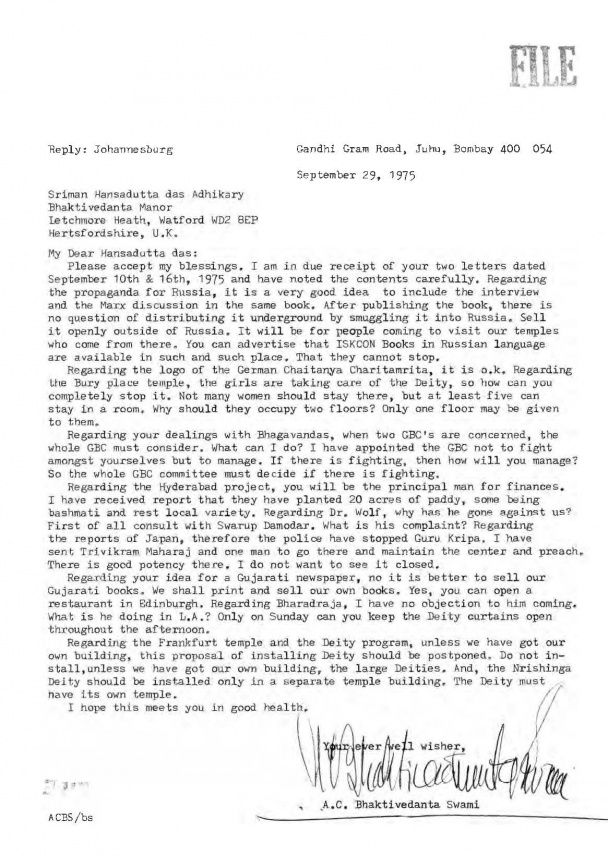 Reply: Johannesburg
Gandhi Gram Road, Juhu, Bombay 400 054
September 29, 1975
Sriman Hansadutta das Adhikary
Bhaktivedanta Manor
Letchmore Heath, Watford WD2 8EP
Hertsfordshire, U.K.
My Dear Hansadutta das:
Please accept my blessings. I am in due receipt of your two letters dated September 10th & 16th, 1975 and have noted the contents carefully. Regarding the propaganda for Russia, it is a very good idea to include the interview and the Marx discussion in the same book. After publishing the book, there is no question of distributing it underground by smuggling it into Russia. Sell it openly outside of Russia. It will be for people coming to visit our temples who come from there. You can advertise that ISKCON Books in Russian language are available in such and such place. That they cannot stop.
Regarding the logo of the German Chaitanya Charitamrta, it is o.k. Regarding the Bury place temple, the girls are taking care of the Deity, so how can you completely stop it. Not many women should stay there, but at least five can stay in a room. Why should they occupy two floors? Only one floor may be given to them.
Regarding your dealings with Bhagavandas, when two GBC's are concerned, the whole GBC must consider. What can I do? I have appointed the GBC not to fight amongst yourselves but to manage. If there is fighting then how will you manage? So the whole GBC committee must decide if there is fighting.
Regarding the Hyderabad project, you will be the principal man for finances. I have received report that they have planted 20 acres of paddy, some being bashmati and rest local variety. Regarding Dr. Wolf, why has he gone against us? First of all consult with Swarup Damodar. What is his complaint? Regarding the reports of Japan, therefore the police have stopped Guru Kripa. I have sent Trivikram Maharaj and one man to go there and maintain the center and preach. There is good potency there. I do not want to see it closed.
Regarding your idea for a Gujarati newspaper, no it is better to sell our Gujarati books. We shall print and sell our own books. Yes, you can open a restaurant in Edinburgh. Regarding Bharadraja, I have no objection to him coming. What is he doing in L.A.? Only on Sunday can you keep the Deity curtains open throughout the afternoon.
Regarding the Frankfurt temple and the Deity program, unless we have got our own building, this proposal of installing Deity should be postponed. Do not install, unless we have got our own building, the large Deities. And, the Nrishinga Deity should be installed only in a separate temple building. The Deity must have its own temple.
I hope this meets you in good health.

Your ever well wisher,



A.C. Bhaktivedanta Swami
ACBS/bs