750928 - Letter to Mr. M.K. Kaul written from Ahmedabad
From Vanisource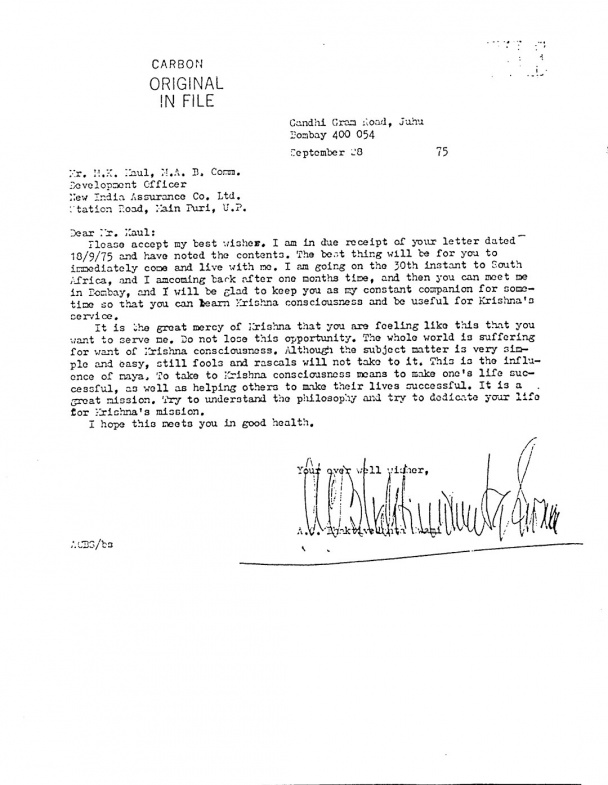 Gandhi Gram Road, Juhu
Bombay 400 054
September 28                 75
Mr. M.K. Kaul, M.A. B. Comm.
Development Officer
New India Assurance Co. Ltd.
Station Road, Main Puri, U.P.

Dear Mr. Kaul:
Please accept my best wishes. I am in due receipt of your letter dated 18/9/75 and have noted the contents. The best thing will be for you to immediately come and live with me. I am going on the 30th instant to South Africa, and I am coming back after one months time, and then you can meet me in Bombay, and I will be glad to keep you as my constant companion for sometime so that you can learn Krishna consciousness and be useful for Krishna's service.
It is the great mercy of Krishna that you are feeling like this that you want to serve me. Do not lose this opportunity. The whole world is suffering for want of Krishna consciousness. Although the subject matter is very simple and easy, still fools and rascals will not take to it. This is the influence of maya. To take to Krishna consciousness means to make one's life successful, as well as helping others to make their lives successful. It is a great mission. Try to understand the philosophy and try to dedicate your life for Krishna's mission.
I hope this meets you in good health.
Your ever well wisher,
[signed]
A.C. Bhaktivedanta Swami
ACBS/bs