750926 - Letter to Kirtiraja written from Ahmedabad
From Vanisource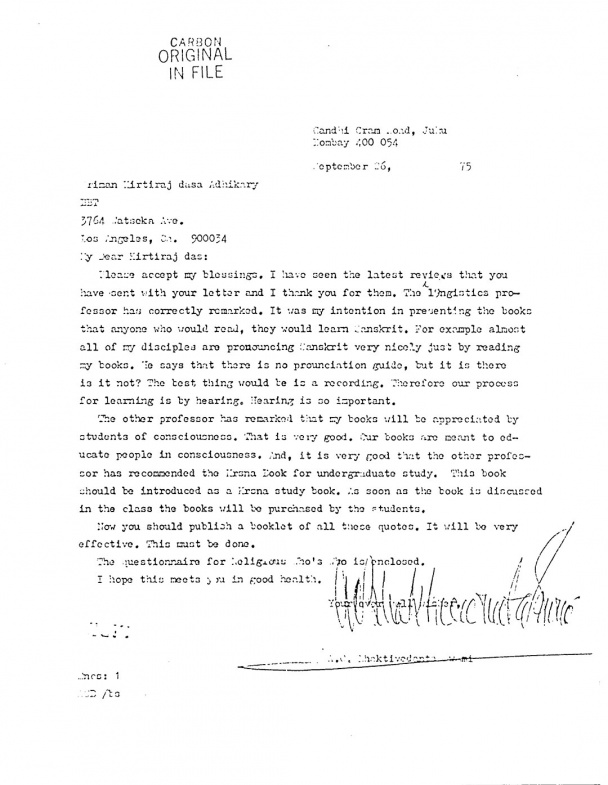 Gandhi Gram Road, Juhu
Bombay 400 054
September 26,               75
Sriman Kirtiraj dasa Adhikary
BBT
3764 Watseka Ave.
Los Angeles, Ca.   900034
My Dear Kirtiraj das:
Please accept my blessings. I have seen the latest reviews that you have sent with your letter and I thank you for them. The linguistics professor has correctly remarked. It was my intention in presenting the books that anyone who would read, they would learn Sanskrit. For example almost all of my disciples are pronouncing Sanskrit very nicely just by reading my books. He says that there is no pronunciation guide, but it is there is it not? The best thing would be is a recording. Therefore our process for learning is by hearing. Hearing is so important.
The other professor has remarked that my books will be appreciated by students of consciousness. That is very good. Our books are meant to educate people in consciousness. And, it is very good that the other professor has recommended the Krsna Book for undergraduate study. This book should be introduced as a Krsna study book. As soon as the book is discussed in the class the books will be purchased by the students.
Now you should publish a booklet of all these quotes. It will be very effective. This must be done.
The questionnaire for Religious Who's Who is enclosed.
I hope this meets you in good health.
Your ever well wisher,



A.C. Bhaktivedanta Swami
Encs: 1
ACBS/bs