750922 - Letter to Manager of Punjab National Bank written from Vrndavana
From Vanisource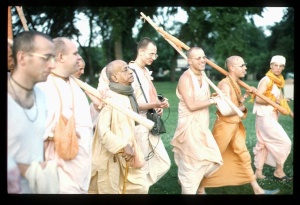 September 22, 75
Krishna Balaram Mandir, Raman Reti
Vrindaban, Dt. Mathura, U.P.
Punjab National Bank
Vrindaban Branch
Att: The Manager
Dear Sir:
I am in due receipt of your letter dated 20/9/75 and have noted the contents proposing the opening of a branch here, and I thank you very much for your proposal. I think on the opening day it will [be] possible for me to deposit Rs. 5 lakhs and we may continue to deposit at least 10,000/- to 15,000/- of Rupees per month, besides the foreign exchange. On the whole if a branch is opened we shall try to concentrate all our business through this branch, rest assured.
Regarding the rental, we shall open several shops down, and the area of the shops will be 10 feet by 10 feet, and we are proposing to charge Rs. 100/- per month. I understand that you require at least 1500 sq. ft., so we shall try to reduce as far as possible, but not less than 8 annas per sq. ft., but if you agree to take upstairs on the first floor, then we can reduce further.
Anyway there will be no difficulty to settle up this business. First of all let us finish up the construction of the building. The ? opening another account ISKCON Gurukula, it will be done when actually the Gurukula building is being constructed. At present there is no hurry.
Thank you for taking interest in our Society's activities.
Yours faithfully,
A.C. Bhaktivedanta Swami
ACBS/bs
cc: ISKCON Vrindaban