750921 - Letter to Radhavallabha written from Vrndavana
From Vanisource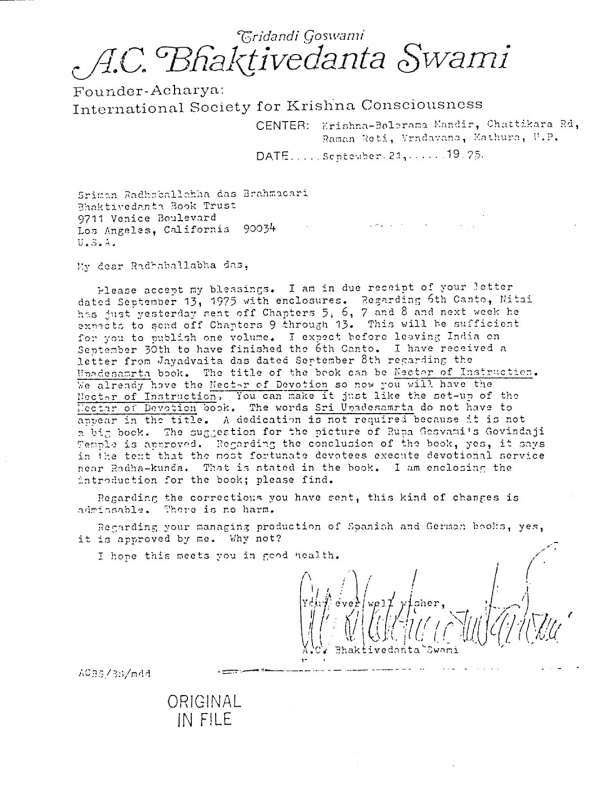 Tridandi Goswami
A.C. Bhaktivedanta Swami
Founder-Acharya:
International Society for Krishna Consciousness
CENTER: Krishna-Balarama Mandir, Chattikara Rd,
Raman Reti, Vrndavana, Mathura, U.P.
DATE.....September.21,......19.75

Sriman Radhaballabha das Brahmacari
Bhaktivedanta Book Trust
9711 Venice Boulevard
Los Angeles, California 90034
U.S.A
My dear Radhaballabha das,
Please accept my blessings. I am in due receipt of your letter dated September 13, 1975 with enclosures. Regarding 6th Canto, Nitai has just yesterday sent off Chapters 5, 6, 7 and 8 and next week he expects to send off Chapters 9 through 13. This will be sufficient for you to publish one volume. I expect before leaving India on September 30th to have finished the 6th Canto. I have received a letter from Jayadvaita das dated September 8th regarding the Upadesamrta book. The title of the book can be Nectar of Instruction. We already have the Nectar of Devotion so now you will have the Nectar of Instruction. You can make it just like the set-up of the Nectar of Devotion book. The words Sri Upadesamrta do not have to appear in the title. A dedication is not required because it is not a big book. The suggestion for the picture of Rupa Gosvami's Govindaji Temple is approved. Regarding the conclusion of the book, yes, it says in the text that the most fortunate devotees execute devotional service near Radha-kunda. That is stated in the book. I am enclosing the introduction for the book; please find.
Regarding the corrections you have sent, this kind of changes is admissible. There is no harm.
Regarding your managing production of Spanish and German books, yes, it is approved by me. Why not?
I hope this meets you in good health.

Your ever well wisher,



A.C. Bhaktivedanta Swami
ACBS/BS/mdd