750908 - Letter to Manager, Central Bank of India written from Vrndavana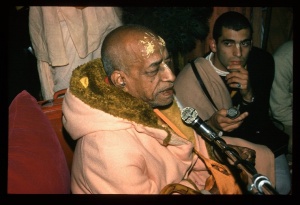 September 08, 1975

State Bank of India
Vrindaban Branch
Att: The Manager
Krishna Balaram Mandir, Raman Reti
Vrindaban, U.P.
Dear Sir:
I am enclosing herewith the forms duly signed and shall be thankful if you open my personal account with your bank. Enclosed herewith are the following foreign checks and currency note which will be the initial deposit in my account.
1. Currency Note- Australian Dollars 50.00 No. YAJ 977268
2. Bank check on Bank of New South Wales, Wales Corner Branch, Melbourne, No. L 5114481 1-12/210 dated August 29, 1975 for the amount of U.S. Dollars 159.61.
3. International Money Order on Bank of America, San Francisco, No. 036618137 11-35/1210 dated August 25, 1975 for the amount of U.S. dollars 19.94.
Please credit the above in my account and deliver me my passbook.
Thanking you.
Yours sincerely,
A.C. Bhaktivedanta Swami
Encs:
1 Currency Note YAJ 977268
1 Bank Check L 5114481
1 International Money Order 036618137
RECEIVED ON BEHALF OF STATE BANK OF INDIA, VRINDABAN BRANCH; September 8, 1975