750811 - Letter to Bhurijana written from Indre, France
From Vanisource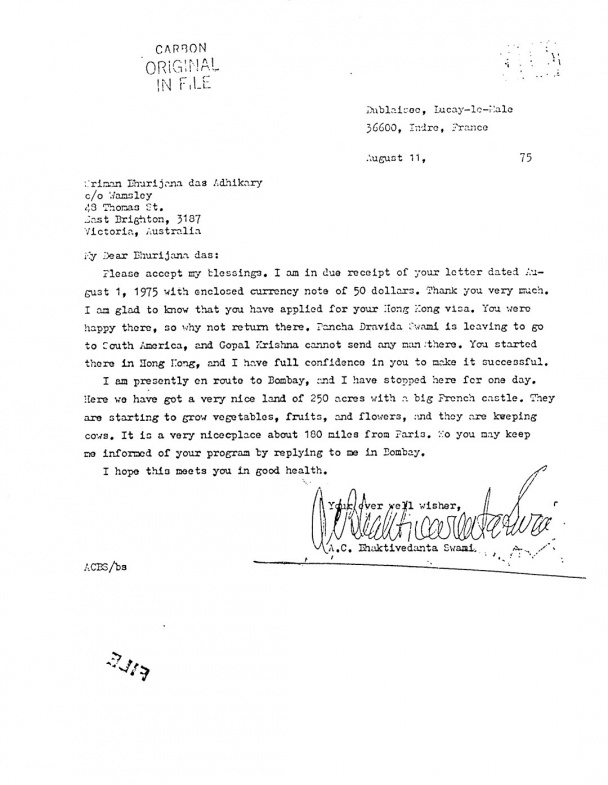 Dublaivee, Lucay-le-Male
36600, Indre, France

August 11,                   75

Sriman Bhurijana das Adhikary
c/o Wamsley
48 Thomas St.
East Brighton, 3187
Victoria, Australia
My Dear Bhurijana das:
Please accept my blessings. I am in due receipt of your letter dated August 1, 1975 with enclosed currency note of 50 dollars. Thank you very much. I am glad to know that you have applied for your Hong Kong visa. You were happy there, so why not return there. Pancha Dravida Swami is leaving to go to South America, and Gopal Krishna cannot send any man there. You started there in Hong Kong, and I have full confidence in you to make it successful.
I am presently en route to Bombay, and I have stopped here for one day. Here we have got a very nice land of 250 acres with a big French castle. They are starting to grow vegetables, fruits, and flowers, and they are keeping cows. It is a very nice place about 180 miles from Paris. So you may keep me informed of your program by replying to me in Bombay.
I hope this meets you in good health.

Your ever well wisher,



A.C. Bhaktivedanta Swami
ACBS/bs