750730 - Letter to XXXXXXXX XXXXX written from Dallas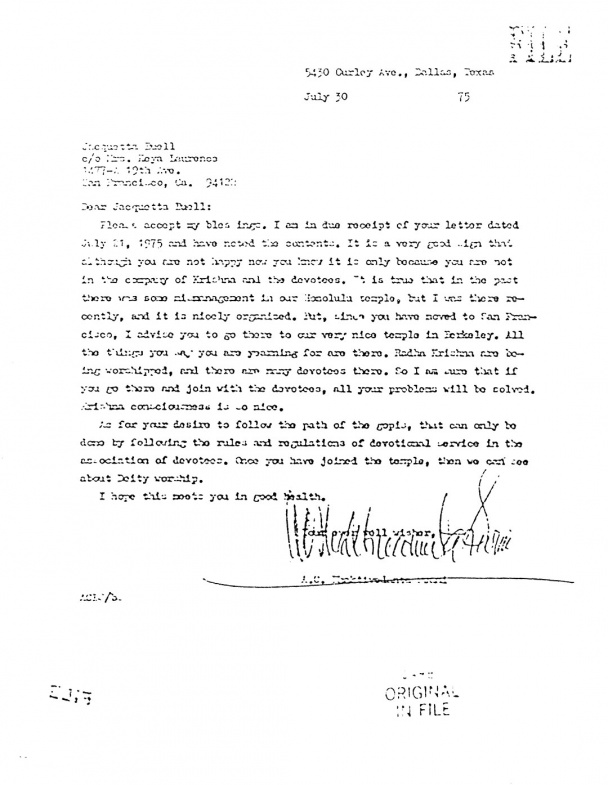 5430 Gurley Ave.,Dallas, Texas
July 30      75



Jacquetta Duoll
c/o Mrs. Keya Laurence
1477-A 19th Ave.
San Francisco, Ca.   94122
Dear Jacquetta Duoll:
Please accept my blessings. I am in due receipt of your letter dated July 21, 1975 and have noted the contents. It is a very good sign that although you are not happy now you know it is only because you are not in the company of Krishna and the devotees. It is true that in the past there was some mismanagement in our Honolulu temple, but I was there recently, and it is nicely organized. But, since you have moved to San Francisco, I advise you to go there to our very nice temple in Berkeley. All the things you say you are yearning for are there. Radha Krishna are being worshiped, and there are many devotees there. So I am sure that if you go there and join with the devotees, all your problems will be solved, Krishna Consciousness is so nice.
As for your desire to follow the path of the gopis, that can only be done by following the rules and regulations of devotional service in the association of devotees. Once you have joined the temple, then we can see about Deity worship.
I hope this meets you in good health.
A.C. Bhaktivedanta Swami
ACBS/bs