750729 - Letter to Cyavana written from Dallas
From Vanisource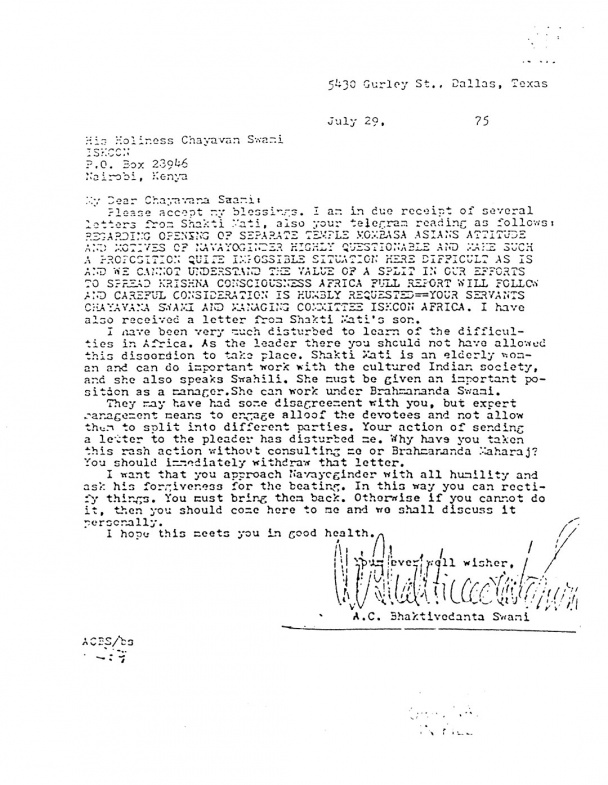 5430 Gurley St., Dallas, Texas

July 29,             75
His Holiness Chayavan Swami
P.O. Box 28946
Nairobi, Kenya
My Dear Chayavana Swami:
Please accept my blessings. I am in due receipt of several letters from Shakti Mati, also your telegram reading as follows: REGARDING OPENING OF SEPARATE TEMPLE MOMBASA ASIANS ATTITUDE AND MOTIVES OF NAVAYOGINDER HIGHLY QUESTIONABLE AND MAKE SUCH A PROPOSITION QUITE IMPOSSIBLE SITUATION HERE DIFFICULT AS IS AND WE CANNOT UNDERSTAND THE VALUE OF A SPLIT IN OUR EFFORTS TO SPREAD KRISHNA CONSCIOUSNESS AFRICA FULL REPORT WILL FOLLOW AND CAREFUL CONSIDERATION IS HUMBLY REQUESTED==YOUR SERVANTS CHAYAVANA SWAMI AND MANAGING COMMITTEE ISKCON AFRICA. I have also received a letter from Shakti Mati's son.
I have been very much disturbed to learn of the difficulties in Africa. As the leader there you should not have allowed this dissension to take place. Shakti mati is an elderly woman and can do important work with the cultured Indian society, and she also speaks Swahili. She must be given an important position as a manager. She can work under Brahmananda Swami.
They may have had some disagreement with you, but expert management means to engage all of the devotees and not allow them to split into different parties. Your action of sending a letter to the pleader has disturbed me. Why have you taken this rash action without consulting me or Brahmananda Maharaj? You should immediately withdraw that letter.
I want that you approach Navayoginder with all humility and ask his forgiveness for the beating. In this way you can rectify things. You must bring them back. Otherwise if you cannot do it, then you should come here to me and we shall discuss it personally.
I hope this meets you in good health.
Your ever well wisher,



A.C. Bhaktivedanta Swami
ACBS/bs