750723 - Letter to Manager of Syndicate Bank written from Los Angeles
From Vanisource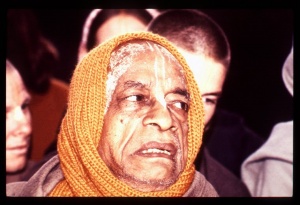 July 23, 75
3764 Watseka Ave., Los Angeles, Ca. 90034
U.S.A.
Syndicate Bank
Vrindaban Branch
Vrindaban, Dist. Mathura
U.P., INDIA
Att: The Manager
Dear Sir:
With further reference to my letter dated June 28, 1975 I am enclosing herewith a copy of a telex transfer from the Union Bank, Los Angeles to your bank in favor of my personal account A.C. Bhaktivedanta Swami A/c No. 3871 for the amount of Dollars 10,321.00 Please put this amount on three months Fixed Deposit and keep the receipt with you. When I return to Vrindaban, I shall collect it from you.
Faithfully yours,
A.C. Bhaktivedanta Swami
cc: 1 transfer copy
ACBS/bs