750721 - Conversation - San Francisco
From Vanisource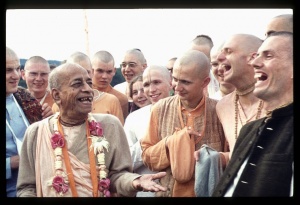 750721R1-SAN FRANCISCO - July 21, 1975 - 61:08 Minutes

(Conversation With Yogi Bhajan and Jain Muni - Predominantly Hindi throughout)

Yogi Bhajan: Main 16 years ka, 1949 mein. (I was 16 years old in 1949.)
Prabhupāda: Navadwip mein hum bahut bhari ashram banaye hain. (We have constructed a very big ashram in Navadwip.) We have got a picture of Māyāpur.
Yogi Bhajan: Wo jo Gaudiya Math ke jo hain bade acharya. (The senior acharya in the Gaudiya Math.)
Prabhupāda: Tirtha Mahārāja.
Yogi Bhajan: Tirtha Maharaj. Main bahut din se soch raha tha. Hua kya ki up-rastrapathi Dr RadhaKrsnan the tab . . . ke udghatan ke liye . . . sammelan hua tha calcutta 1960 mein. Lekin hum Chaitanya Mahaprabhu ke jeeve daya aur nam siddhant mein badi aastha rakhte the. To unko aamantrit kiya humne, aye. Unhone phir bulaya, main gaya tha. maine dekha holi ke avsar par . . . nritya karte hain, bhagavan ka bhajan karte hain. (I was thinking for many days. It happened like this—the vice-president Dr. Radhakrishnan was in the post . . . for the inauguration, there was a conference in Calcutta in 1960. But I used to have a lot of faith in Caitanya Mahāprabhu's philosophy of compassion, and the holy name. So we invited him and he came. Then again he called and I went, I saw him on the occasion of Holi . . . he danced, sang the glories of the Lord.)
Tamāla Kṛṣṇa: Upendra? You have a picture of Māyāpur? Sample there?
Yogi Bhajan: Aapka delhi mein bhi gaudiya math? (You have Gaudiya Mat' in Delhi also?)
Tamāla Kṛṣṇa: From the Caitanya-caritāmṛta, Śrīla Prabhupāda.
Yogi Bhajan: Kuch bhinnata hai aap mein aur gaudiya math mein ya ek hi hai. (Is there a difference between your organization and Gaudiya Math or is it one?)
Prabhupāda: Nahi (No.) (aside) What is this?
Tamāla Kṛṣṇa: (bringing picture) Māyāpur. The farm project.
Prabhupāda: Yes hamara Navadwip Mayapur mein jo mandir hai. (This temple which is there in Navadwip, Mayapur.)
Jain Muni: They will take prasāda. Jo bharat sadhu samaj sevak unka Navadwip mein kuch hai. (The Indian saints sevak samaj, do they have a base in Navadwip?)
Prabhupāda: Nahi, navadwip mein unka kuch nahi hai. Ye mayapur navadwip ka us par hai, gangaji ke poorva taraf. (No they don't have anything in Navadwip. This Mayapur is on the other side of Navadwip, on the Eastern side of Ganges.)
Jain Muni: Maharaj, yogi bhajan ka bhi to maine dekha hai kuch centres mein gaye the. to jaise to thoda sa aap jo keh rahe the, lekin unme bhi jaise aapne Hare Krsna mein logon ko tayyar kiya hai. Sikh dharm ko, itne satvik tarah se vahan rehte hain, subah roj uthke, mane itne satvik aur prem se reh rahe hain log, aur lakhon aur hazaron ki tadad mein Sikh ban gaye hain aur India mei bhi aye the. (I have also seen some centers of Yogi Bhajan, I have gone to some centers. Not like how you were saying. In their organization also, like how you have trained in Hare Kṛṣṇa. In the Sikh religion, they all live in such goodness. They get up early in the morning—they live together in goodness and love and in lakhs and thousands they are converting people to Sikhs, they came to India also.)
Yogi Bhajan: Goswami ji jante honge. America mein kaun aisa bhartiya hoga jo inhe nahi janta hai. (Goswami must know. There is no Indian in America who does not know him.)
Jain Muni: Aap ka hi to movement aisa bana hai iska to koi tulna nahi kar sakte hain. Bhaktivedanta swamiji ka mane is umar mei aur isme bhi bhagavan Krsna ke grace ke sivai ho hi nahi sakta hai. 6 lakh copies magazine ki nikalti hai. (Your movement was formed like this, of which there is no comparison. Bhaktivedanta Swamiji at this age and in this the grace of the Supreme Lord Kṛṣṇa, otherwise it was not possible. Six lakh copies of the magazine rolled out.)
Yogi Bhajan: Gita me to choot bahut di thi lekin apne usi raste pe 'ye yatha maam prapadyante tams tahaiva bhajamy ham' lekin apne bina samjhauta kiye apne hi reet se yahan par sthapit kiya hai. Ye apki shakti ka asar hai. (In the Gītā it was flexible but you tread on that path only, "Ye yathā māṁ prapadyante tāṁs tathaiva bhajāmy aham." But without compromising, you established this movement on your own terms. This is the result of your energy.)
Jain Muni: Nahi unka kehna hai main jaisa hai jo hai wo rakh rahan hoon. (He says that I present it as it is given in the Gītā, without distortion.)
Yogi Bhajan: Bengal me hamare liye apke ashram ke sivai koi sahara nahi hai, kahan tehre, kahan jaye, ricksha kahan se le. Bus yehi ki maloom pad gaya ki Chaitany Mahaprabhu ka . . . vahan chinta nahi rehti, sochna nahi padta hai, nahi to . . . Vivekananda aur Paramhams ka agar dabav nahi padta to mansahar kafi khatam kar diya gaya. (In Bengal, we did not have any shelter other than your ashram. Where should we stay? Where to go? Where to get a rickshaw? It came to be known that Caitanya Mahāprabhu . . . there we don't have to worry, we don't have to think otherwise . . . if there was no pressure from Vivekananda and Paramahamsa, then meat eating would have been banished.)
Prabhupāda: Wohi log to chalu kiya. (They only started.)
Yogi Bhajan: Jaise idhar hamare punjab mein tara singh ne badhava de diya mansahar ko. Lekin unki sabse badi amulya shakti thi ki wah ye ki Sikh hote hue aur Sikh dharm ka thik dhang se vidhivat unhone vyavasta ki apne atma bal pe usme Sikh dhatm ka bhi bahut kuch hai . . . usme se unhon ne jo bhi . . . chahe tantrik shakti ho chahe yogic shakti ho lekin unhone Sikh dharm ki sthapna ki. apki vishesta ke prati hamara jo jhookav raha hai sirf is baat par ki apne samjhauta nahi kiya kisi bhi baat se aur parampara thi apki apni. (Like here in Punjab, Tara Singh encouraged meat eating, but his greatest power was being a Sikh and following the Sikh religion with all its principles he made arrangements on his spiritual strength, there is lot about Sikh religion in that . . . in that whatever he found . . . whether it be yogic or mystic powers but he established the Sikh religion. The inclination we have towards your speciality is that you never compromised on any matter and you had your lineage.)
Jain muni: Isliye kal hum unko phone karke khas rathyatra mein boolaye. (That is why I called him yesterday and specially invited him for Ratha-yātrā.)
Yogi Bhajan: Main aya hoon apke liye Toronto mei. Humara group tha 20 aadmiyon ka. (I had come to your Toronto Ratha-yātrā. We were a group of twenty people.)
Prabhupāda: Toronto me hamara mandir hai. (We have our temple in Toronto.) (aside) What is this?
Jain muni: Unko sab chod ke 2 din aage aye apka rathyatra dekhne. (He left them and came two days earlier to see your Ratha-yātrā.)
Prabhupāda: (aside) What is this?
Tamāla Kṛṣṇa: (bringing picture) Māyāpur. The farm project.
Jain Muni: Yahan uska New York me ja rahe hai na Chidanandi Maharaj jayenge. Yahan unhone New Brindavan banaya hai 1000 acre me. (There Chidananda Mahārāja is going to New York. There he has made New Vṛndāvana on a thousand acre site.)
Yogi Bhajan: Kuch Jain iske founder-member hain. paisa leke ho ban jate hain. har jaga bhojan ki suvidha hai, har jaga tehrne ki suvidha hai, koi taklif nahi hai aur rehne ke liye aur koi chara nahi. Jagdish Jain hai calcutta ke wo bata rahe the hame me member hoon. (Some Jains are founder members of this, those who give money and become members. Everywhere there is provision for food—to stay, no problem and for staying there no other option. Jagadish Jain of Calcutta was telling me he is a life member.)
Jain Muni: Yeh sare brindavan ka photo, goshala, apne India ka. (These are the photos of Vṛndāvana, the cowshed in India.)
Yogi Bhajan: Swamiji aisa nahi ho sakta hai bakri aur bachde marte hain . . . ye jo bachde-bachdia bade ho jate hain to unko mar diya jata hai. koi aisa rasta. (Swamiji, is it possible to protect the goats and sheep when they grow old—they are killed, any way to protect them?)
Prabhupāda: Nahi hum to yahan go-palan karte hain. no, we protect the cows. Europe, America me sab gay katne wala hai. humlog shooru kiya. humara vishay me 1974 November me Nav Bharat Times me ek article nikla tha, bada heading diya tha "adhyatmikta ki jamuna adbhut dahi ki nadi beh rahi hai" about our, bahut bhari heading diya tha. New Brindavan. Yeh log sab New York, New Jersey, New England rakhte hai, hum rakha New Brindavan, New Dwarka. (In Europe and America, they kill all the cows. We started this cow protection. In relation to this, in November 1974 in the Nav Bharat Times, there was an article which had a big heading "The Yamuna of spirituality, an amazing river of curd is flowing." Very huge heading. These people keep New York, New Jersey, New England as names so we kept New Vṛndāvana, New Dwarka.)
Jain Muni: Maharajah ji hum apse request ye karenge kyunki humne, Sarojini ne, Kamla Tripathi sab ne inki jo film bani hai agar aap dekho to uska . . . adbhut aaj tak maine sansar me aisa film nahi dekha hai, sari creation kaise kiya hai, wo film bhi aisa liya hai, to apko idea ayega. 20 minutes, hum to ye chahenge wo film dekhe. Baat bhi karenge, lekin aaj wo film zaroor dekhna hai. pehle to hum Maharaj ji apki aur se shama mangana chahte hain ki kal hamara vichar tha ki vo log ake thoda stay kare. (Mahārāja, we request you this because we, sarojini, kamla tripathi everyone the film which has been made, if you can see the film . . . until today I have not seen a film like this, amazing. All the creation, how they have done it. The film also has been shot very nicely, you will get an idea . . . twenty minutes. I want that they should see the film. We shall also discuss, but today that film they must see. First I would like to seek your apology, those people want to come and stay I think.)
Jain muni: Inlog ka prasad yahin lenge. (They will have prasadam here. They will take prasad.)
Yogi Bhajan: . . . (indistinct Hindi)
Prabhupāda: Ye christian log jo hamara movement hai usko mante hain aur wo log taarif bhi karte hain. Ye sab bacche log hamara hi hai. Ye pehle bhagavan ka vishay poochta bhi nahi tha na to church me aata tha, ab ye bhagavan ke liye itna pagal hai, ye inko tazoob hai. wo to kattar na kattar wo to khatam hone wala hai. Hum to London me dekha hai, kum se kum 500 church sab band ho gaya. Idhar bhi humlog kai church khareeda hai. They have lost interest, the younger generation. usko koi interest nahi. they don't have any interest. wo hamara jo paddati hai woh delhi main yehi baat sabko kehte hain. Delhi main nai sadak par ek punjabi ka dukan hai wo pure ghee ka cheez banata hai aur udhar sab samay customer 50-60 khada rehta hai. to hamara kehne ka hai agar cheez theek hoga, to customer jaroor mil jayega. kai log kehte hain Maharaj apne wonderful magic kiya, hum kehte hain humko koi magic nahi jante par itna jaroor kiya hai ki hum bhrajaal nahi kiya jaisa aap ne bola tha, compromise nahi kiya. cheez main bhrajaal hone se wo cheez kharab ho jata hai. (These Christians believe in our movement and also praise it. All these children are mine. Initially they never questioned God nor came to church. Now they are so mad for God, they are surprised. That hard core or not hard core is going to end. I have seen in London, minimum of five hundred churches have shut down. Here also we have purchased a few churches. That system that we have, I keep repeating the same in Delhi. In Delhi on Nai Sadak, there is a sweet shop which sells all varieties of sweets made from clarified butter, there around the clock fifty to sixty customers will be waiting. What I mean to say is if the product is okay, then automatically customers will come. Some say: "Mahārāja, you have done wonderful magic." I said I don't know any magic. But one thing is for sure, I have not mixed anything as you said, I have not compromised on anything . . . if there is a mixture of things it gets spoiled.)
Yogi Bhajan: Accha, kya aapka Sikhane ka dhang. (What is your method of preaching?)
Prabhupāda: Hamara basic principle hai Bhagavad-gītā. Bhagavan Bhagavad-gītā me kehte hain ki "mattah parataram nanyat". To hum keh dete hain ki bhagavan ko tum dhoondte ho to ji ye lo bhagavan, Kṛṣṇa. To wo hamara banane ki cheez nahi hai, Bhagavan khud kehte hain. baat bhi yeh theek hai, bhagavan se bada kaun hoga. Bhagavan kehte hain "man mana bhava mad bhakto mad yaji mam namaskuro" hamara chintan karo, hamara bhakt ho jao, humko namaskar karo, humko puja karo. (My basic principle is Bhagavad-gītā. Kṛṣṇa in the Bhagavad-gītā says that, "Mattaḥ parataraṁ nānyat." So I say why are you searching for God, he is here, take God Kṛṣṇa. It is not manufactured. God himself says and this is a fact, who can be greater than God. God says: "Man-manā bhava mad-bhakto mad-yājī māṁ namaskuru," think of me, become my devotee, offer obeisances to me, worship me.)
Yogi Bhajan: Lekin "mam ekam sharanam vraja" aap kaise le rahe hain hum ye pooch rahe hain. (But "Mam ekam saranam vraja," how are you preaching this I want to know.)
Prabhupāda: Hum kahan lete hain, wo bhagavan lete hain. bhagavan kehte hain "mam ekam sharanam vraja" bus mere sharanagati ho. hamara kaam hai Chaitanya Mahaprabhu ka prachar ka vishay. Chaintanya Mahaprabhu kehte hain "Amara agya guru hoiya tara ei desh" hamari agnya se aap sab guru ban jaiye. to phir aapki agya kya hai boliye. "Yare dekho tare kaho krishna upadesha." jisse tumhara mulakat ho jaye, bhagavan Krsna jaisa upadesh diya hai usko samajhao. (Where do we take, Krsna takes. He says: "Mam ekam saranam vraja" just surrender unto me. Our duty is the subject of the preaching of Caitanya Mahāprabhu. Caitanya Mahāprabhu says: "Amara agya guru hoiya tara ei desh," with my order all of you become masters so then what is your order speak, "Yare dekho tare kaho krishna upadesha." Whomever you meet, just explain the instructions what Kṛṣṇa has stated.)
Yogi Bhajan: . . . (indistinct Hindi)
Prabhupāda: To hamara prachar ka vishay woi Chaitanya Mahaprabhu ka philosophy "Dakho tare kaho krsna upadesa". Ye upadesh humko dohrana nahi hai, hum to moorkh hain hum kya bolenge. Krsna upadesh, Krsna jo upadesh diya usko bata dete hain ji Krsna bolta hai aisa karo bus, yehi secret. main karta hoon, unko Sikhata hoon. (So the subject of my preaching is the same Caitanya Mahāprabhu's philosophy, "Dakho tare kaho krsna upadesa." This instruction we don't have to repeat, we are fools, what can we say? Kṛṣṇa's instructions, whatever Kṛṣṇa has taught we explain that's all, this is the secret. I do it and teach the others. I am against manufacturing religion. I am totally against that.) "Evam parampara praptir imam rajarshayo viduh." Pramapara se bhagavan bataye hain. (God has told us through lineage.) "Imaṁ vivasvate yogaṁ proktavān aham avyayam" "Sakalena yoga nashta parantapa" to jo nasht ho gaya tha uska nibhayi kar rahe hain. (So that which is lost you are lamenting for that.)
Yogi Bhajan: Isme jo beech me mishrit ho gaya usko aapne hata diya. aur wo hamare desh ke liye kharab hai. (Whatever got mixed into this, you removed it because it was not good for our country.)
Prabhupāda: Yeh jo adulteration hai na ye sab kharab hai. (All this adulteration is bad.)
Yogi Bhajan: Mujhe is baat ki badi prasannata rahi barson se aaj se nahi, aap se jo mere man me thi der so keh raha hoon. (I am very happy with this fact, not today but from many years I want to disclose to you, though saying it very late.)
Prabhupāda. You can read. Fourth Chapter." Imaṁ vivasvate yogaṁ proktavān aham avyayam".
Tamāla Kṛṣṇa: First verse.
śrī-bhagavān uvāca
imaṁ vivasvate yogaṁ
proktavān aham avyayam
vivasvān manave prāha
manur ikṣvākave 'bravīt
(BG 4.1)
Translation: "The Blessed Lord said: I instructed this imperishable science of yoga to the sun-God, Vivasvān, and Vivasvān instructed it to Manu, the father of mankind, and Manu in turn instructed it to Ikṣvāku." Purport?
Prabhupāda: Hmm.
Devotee: "Herein we find the history of the Bhagavad-gītā traced from a remote time when it was delivered to the royal order, the kings of all planets. This science is especially meant for the protection of the inhabitants, and therefore the royal order should understand it in order to be able to rule the citizens and protect them from material bondage to lust. Human life is meant for cultivation of spiritual knowledge, in eternal relationship with the Supreme Personality of Godhead, and the executive heads of all states and all planets are obliged to impart this lesson to the citizens by education, culture and devotion. In other words, the executive heads of all states are intended to spread the science of Kṛṣṇa consciousness so that the people may take advantage of this great science . . ."
Yogi Bhajan: Waine bhi tika likhi thi, Bombay se prakashit hui thi photo me sachitra tab . . . (I had also written a summary published from Bombay in the photo . . .)
Prabhupāda: Imaṁ rājarṣayo viduḥ. Yeh phakkad log Gita ka vyakhyan karna shooru kiya. (These useless people started describing the Gītā.)
Yogi Bhajan: Phakkad log jo naya-naya laye hain use kathinayi kya ho gayi ki unhon ne . . . (These useless people brought new, new things—with this difficulty, was that they . . .)
Prabhupāda: Cheez nasht ho gaya. (The things were destroyed.)
Jain muni: Main yogi ji se bhi isiliye prabhavit hua ki unhone kahin kuch kiya nahi apne aur se koi granth nahi. Jo tha Granth Saheb usi ko baitha diya, usi ka vyakhyan kiya. Baki ye to garv karte hain. (I was impressed with Yogi because nowhere has he distorted anything, no scripture from his side. Whatever is there is from Granth Saheb and he explained it from that. I feel proud of him.)
Prabhupāda: Ab bhagavan ka nahi "evam vivasvate yogam" Vishnu, suryanarayan, surya dev ko main bata raha tha aur ye log kahenge udhar koi aadmi hi nahi rehta hai. Ye to nischit kar liya ki yehi planet me jo kuch hai baki sb vacant. Hamare shastra me aisa kuch nahi. Sab ka explanation diya gaya hai. Sara duniya, kahan-kahan kya-kya hai. (Now God "Imaṁ vivasvate yogam" Vishnu, suryanarayan, Sun god. I was mentioning and these people will say: "No man lives on that plane." It was decided that, "Whatever is there is on this planet." In our scriptures, there is no such thing. Everything is explained there, the entire universe—what is there in which place.)
Yogi Bhajan: To aap kaise samadhan karte hain jab log aate hain chandrama par . . . (So how do you resolve this, when people come to you with questions regarding life on the moon etc.)
Prabhupāda: Samadhan kyo, jo hai wo usko jo bhagavan kehte hain wohi to samadhan hai. Chandrama . . . ye log gaye hi nahin. kyonki Bhagavat me hai chandrama jo hai surya ka upar 1 million 600 thousand miles above aur surya ka hisab-kitab hai centre me aur apka diameter hai 1 circumference to another 4 million miles, surya beech me hai. 2 million miles from the circumference. Ye log ka kehna hai ki 3 million. To usko 93 man liya to 93 ke upar aur 1 million 600000 miles. (Why solution? What is there is told by God—that is the only solution. Moon . . . these people haven't gone because in the Bhagavat it is mentioned the moon, which is above the sun, one million six hundred thousand miles above and sun's calculation. It is in the centre and the diameter is one circumference to another, four million miles—the sun is in the middle. Two million miles from the circumference. These people say three million. So if we take it as ninety three, then above ninety three, one million six hundred thousand miles.)
Yogi Bhajan: . . . (indistinct Hindi)
Prabhupāda: Nahi, ye baat to nischit hai ki surya ke upar, surya agar 93 million miles hai to 1 million 600000 miles aur above, so 91 and 1 is 94. 94 million ja sakte hain, asambhav hai. (No, this is definite, that it is above the sun. If the sun is ninety three million miles then one million six hundred thousand miles further up. So ninety one and one is ninety four. Ninety four million miles, can anyone go? Impossible.) Aur shastra me description hai jo chandralok me jo hote hai wo devta log hain aur 10000 varsh usko param aayu. Aur dedh varsh ka anusar aur ye log ka sab desert, ye sab baat ka bahut fark padta hai. Kyunki Bhagvat me sab description hai sara universe ka, kal chakra ka sab cheez ka. (And in the scriptures, a description is there, that those who are on the moon planet are demigods and ten thousand years is their duration of life. And one and a half years of anusar and all desert. All this affects a lot. Because in Bhagavat, all the description is there of the universe, of time frame, everything.)
Yogi Bhajan: Sab cheezo ko liya hai usme. Pancham skand me bhagavan Rishabdev ka varnan bhi hai aur wohi Rishabdev ka varnan barabar hai Srimad Bhagavatam ke pancham skand me. To sab shastra padh lete hain sanskrit me. (Everything is there. In the fifth canto Lord Rishabhdeva the description is there and the same Rishabhdev, the complete description is there in Śrīmad-Bhāgavatam, Fifth Canto. So all the scriptures, they can read in Sanskrit.)
Prabhupāda: Usko Sikhaya jata hai Dallas me gurukul kiya hai. chote-chote bacchon ko sanskrit aur english Sikhaya jata hai. (They have been taught. In Dallas, we have a gurukula. Small children are taught Sanskrit and English.)
Jain Muni: Thodi deri hui hai, church mein aaye the aap. (It is a little late, you had come to the church.)
Prabhupāda: Aaye the concert me. Kaam shuru hua hai '67 se. (I had come for the concert. The work started in 1967.)
Jain Muni: . . . (indistinct Hindi)
Yogi Bhajan: . . . do vidyapeeth kholi hai sanskrit ki delhi me, chal nahi pa rahi hai, theek hai 200-250 vidyarthi aa rahe hai badi mushkil se aur unko ruchi nahi. (we have opened two universities for Sanskrit but it is not doing well. Hardly 200 to 250 students are coming, they don't have any interest.)
Prabhupāda: Abhi to obsolete ho gaya hai. (Now it has become obsolete.)
Yogi Bhajan: Teen sal tak boarding ki vyavastha rakhi . . . student nahi hai aur unki vyavastha theek nahi ho pati . . . aur wo sab brahman ladke padhne ko aate hain, doosre to bahut kam hi hain. (Until three years ago, we had a boarding facility . . . there are no students and the facilities cannot be done properly . . . and all the brahman boys come to study, others are much less . . .)
Prabhupāda: "Kalau śūdra-sambhava." Kaliyug me sab sudra hain, koi brahman nahi. (In Kali-yuga everyone is a sudra, there are no brahmans.)
(indsitinct Hindi conversation)
Prabhupāda: Idhar sanyasi bhi hain aur grahasth bhi hain. han shaadi-vivah, pehle hum khud dete sanyasi hoke. wo jo pehle-pehle naya aaya to ye log to sab friends rakhte hain. Hum bola ye sab friends nahi chalega, shaadi karo. Wo hamara guru bhai log sab criticise kiya. (to Tamāla Kṛṣṇa) Have you got the old pictures like that when I was acting as a priest in Boston? (Here there are renunciants and family people—yes marriage takes place. Initially I used to conduct marriages being a renunciate. Those who came in the beginning, they had friends. I told them this will not work for you, they have to get married. My God brothers criticized me for this.)
Yogi Bhajan: Dah-sanskar kiya jata hai? (Funeral ceremonies take place.)
Prabhupāda: Abhi tak koi mara nahin. till now there have been no deaths. 10000 log hain , sanyasis zyada nahi hai 20-25 sanyasi. ye to tridandi sanyasi, wo mayavadi sanyasi ek dandi. aaj hi ek sanyasi hua usme char dand hai ek dand to wo khud hai aur teen dand hai karmana vachasa, ye sab bhagavan ke liye samarpan kar diya. (There are ten thousand boys and girls. Not many renunciants, twenty to twenty five. He is a renunciant, holding three rods—the impersonalist renunciant has one rod. Today one of them became a renunciate, he holds four rods. One rod represents him, the other three are karmana vachasa. All of them have renounced and surrendered to God.)
Yogi Bhajan: . . . agni sparsh nahi karna hai . . . khud Jagad Guru Adi Shankracharya nahi karte the. ek samasya ai thi. ab ye jo . . . ki baat jo hamare liye hai na wo unke liye bhi theek . . . (. . . they should not touch fire . . . Jagad Guru Adi Sankaracharya himself did not. One problem came up . . . the rule which applies to us, applies to them also . . .)
Prabhupāda: Sastra mein hai Narad Muni pravachan yuddhistra maharaj ko sunaya tha ki, (In the sastra also Narada Muni's sermon was recited to Mahārāja Yudhisthira,) "Yasya yal lakṣaṇaṁ proktaṁ puṁso varṇābhivyañjakam yad anyatrāpi dṛśyeta tat tenaiva vinirdiśet."
Yogi Bhajan: . . . (indistinct Hindi)
Prabhupāda: Aur bhagavan khud kehte hain "chatur varnyam maya shrishtam guna karma vibhagashah" aur bhi ek jaga bhagavan bataye hain "mam hi partha vyapasritya ye 'pi syuh papa-yonayah striyo vaishyas tatha sudras te 'pi yanti param gatim". Aur Sukhdev Goswami kehte hain "Kirāta-hūṇāndhra-pulinda-pulkaśā ābhīra-śumbhā yavanāḥ khasādayaḥ." (And God himself says: "Catur varnyam maya srstamguna karma vibhagasahtasya." In another place God has said: "Māṁ hi pārtha vyapāśritya ye 'pi syuḥ pāpa-yonayaḥ striyo vaiśyās tathā śūdrās te 'pi yānti parāṁ gatim". And Sukadeva Goswami says: "Kirāta-hūṇāndhra-pulinda-pulkaśā ābhīra-śumbhā yavanāḥ khasādayaḥ".) You can find this verse I think in the second canto.
Yogi Bhajan: Isse zyada rashtriya ekta kahan hoga batayie, wo kya mantra ho sakta hai. (What national unity can there be more than this, what can that verse be?)
Prabhupāda: Nahi isiliye to main kehta hoon ki jo Gita ko rakhiye saamne aur isko prachar kijiye to sab koi accept karenge aur bilkul authorized Hai. (That is why I say to keep the Gītā in front and preach this, then everyone will accept it and it is fully authorized.)
Devotee:
kirāta-hūṇāndhra-pulinda-pulkaśā
ābhīra-śumbhā yavanāḥ khasādayaḥ
ye 'nye ca pāpā yad-apāśrayāśrayāḥ
śudhyanti tasmai prabhaviṣṇave namaḥ
"Kirāta, Hūṇa, Āndhra, Pulinda, Pulkaśa, Ābhīra, Śumbha, Yavana, members of the Khasa races and even others addicted to sinful acts can be purified by taking shelter of the devotees of the Lord, due to His being the supreme power. I beg to offer my respectful obeisances unto Him.."
Prabhupāda: Ye Sukhdev Goswami ka vachan hai. (These are the words of Sukadeva Goswami.) Purport?
Devotee: "Kirāta: A province of old Bhārata-varṣa mentioned in the Bhīṣma-parva of Mahābhārata. Generally the Kirātas are known as the aboriginal tribes of India, and in modern days the Santal Parganas in Bihar and Chota Nagpur might comprise the old province named Kirāta.
"Hūṇa: The area of East Germany and part of Russia is known as the province of the Hūṇas. Accordingly, sometimes a kind of hill tribe is known as the Hūṇas.
"Āndhra: A province in southern India mentioned in the Bhīṣma-parva of Mahābhārata. It is still extant under the same name.
"Pulinda: It is mentioned in the Mahābhārata (Ādi 174.38), that is, the inhabitants of the province of the name Pulinda. This country was once conquered by Bhīmasena and Sahadeva. The Greeks are known as Pulindas, and it is mentioned in the Vana-parva of Mahābhārata that the non-Vedic race of this part of the world would rule over the world. This Pulinda province was also one of the provinces of Bhārata, and the inhabitants were classified among the kṣatriya kings. But later on, due to their . . ."
Prabhupāda: Pulinda, they are mentioned in the Greeks. Sabhi ka naam diya hai. nahi Hun ek race hai Europe main germany ka aur uttar mein. They are not very civilized. The Russians belong to that, Huns. And Mongolians. Shuddhyanti sab ki shuddh kiya jata hai. Prabhu vishnu, bhagavan vishnu ka ek aur . . . vaishnaver jati vriddhi vaishnav ko jati vriddhi nahi karni chahiye. aisa shastra mein hai. bhagavan ka jo murti hai usko shila patthar samjhna ye bahut kharab baat hai. guru jo hote hain unko sadharan manushya samajhna aur vaishnave jati vriddhi. Wo ganga jal me jal vriddhi, ye sab shastra me hai. (Everyone's name is mentioned. No Hun is a race in Europe to the North of Germany. Everyone is purified. Lord Visnu, another . . . of Lord Visnu. Vaishnavas should not expand their race like this, it is given in the scriptures. The Deity of God should not be considered as a stone, this is very offensive and to consider the spiritual master as an ordinary person is also offensive. All this is mentioned in the scriptures.)
Yogi Bhajan: Ganga kinare rehne ka mujhe bada mauka mila hai.rishikesh se leke Calcutta tak. (I have a great opportunity to stay on the banks of Ganges from Rishikesh to Calcutta . . .)
Prabhupāda: Wo bhi verse mein aya hai " dure varjanam tirtham" wo gangaji calcutta me hai usme jyada sab dhyan nahi wo haridwar me jane se. "dure varjanam tirtham" thoda door me jaiye to tirth ho jata hai, aise shastra me hai. (This is also in the verse, "Dūre vāry-ayanaṁ tīrthaṁ." The Ganges is in Calcutta but no one pays much attention to that, only when they go to Haridwar "Dūre vāry-ayanaṁ tīrthaṁ." If they go far, then only it is a sacred pilgrimage, like that, it is there in the scriptures.)
Yogi Bhajan: Aur to patna ke baad . . . wohi hai ganga-sagar ab to koi teerth nahi hai banaras ke baad . . . (And after Patna . . . there is only Gangasagar and after Banaras there is no sacred pilgrimage . . .)
Prabhupāda: Jaise bhagavan vishnu kehte hain ki "mam hi partha vypasritya ye 'pi syuh papa-yonayah" to samajh lijiye europe aur america me sab papa yoni hain aur hindu ke hisaab se hota hi hai mleccha, yavan, ye sab acchoot hai aur kuch hai. Bhagavan kehta hai "ye 'pi syuh papa yonayah to striyo vaishyas tatha sudras te 'pi yanti param gatim" wo bhi agar humko ashray kar lein to usko para gatim milti hai. to usko seekhayega kaun. jo papa gati hai usko para gati le jane me kaun Sikhayega. bhagavan to hukum de diya jo papa yoni jo hai. (Like Lord Visnu says that, "Māṁ hi pārtha vyapāśritya ye 'pi syuḥ pāpa-yonayaḥ." So understand that in Europe and America, everyone is a sinner and according to Hindu religion, it is a fact. Mleccha, yavana—all these are untouchables and so on. The Lord says: "Ye 'pi syuḥ pāpa-yonayaḥ striyo vaiśyās tathā śūdrās te 'pi yānti parāṁ gatim." If they also take my shelter, they will get ultimate liberation but who will teach them? Those who are sinners, who will teach them and give them to liberation? The Lord gave orders to those who are sinners.)
Yogi Bhajan: Usme humne dekha kuch negro bhi hain. Russia me bhi kendra hai? (There are negros also, I noticed. Is there a center in Russia also?)
Prabhupāda: Han negro hain bahut. han russia me bhi kendra hai, iran me bhi hai. iran me shayad Sikh log kum hain. (Yes, there are lot of negros. Yes there is a center in Russia also. In Iran also it is there. In Iran I think there are less Sikhs.)
Yogi Bhajan: Sikh log bahut bada, wahan to indian ka matlab Sikh samjha jata hai, kyunki wahan saabse bada gurudwara hai, tehran wo rajdhani hai. hamare bahut parichit hain. (There are many Sikhs there. Indian means it is understood to be Sikh because there is the biggest Gurudwara—Tehran is the capital, I have a lot of contacts.)
Prabhupāda: Musalman hamara bahut shishya hain, london me hain, tehran me bhi hain, tehran me hamara shishya jo hai, his name is Akhtar humlog usko Atreya rishi bulate the, aur . . . me hamara ek shishya hai Dr Ramzan, usko hum naam diya Ram Ranjan. (I have a lot of Muslim disciples. They are in London, in Tehran also. In Tehran I have a disciple by the name Akhtar and we called him Atreya Rishi and in . . . I have a disciple by the name of Dr. Ramzan, and we called him Ram Ranjan.)
Yogi Bhajan: . . . (indistinct Hindi) To sare pradeshon me jahan apke shishya hain apko jana padta hai. bada mushkil mamla hai. (So you have to go to all the centers where your disciples are, it is a very difficult task.)
Prabhupāda: Ek-ek sthan mein agar 3-4 roz jaye to sara varsh purna ho jata hai. ab inko seekhaya hai, 12 secretaries banaya hai GBC unko training kar raha hai sara duniya me. He is also among the GBC. indian ek hai. ye hindi nahi jante. (If I visit for three to four days, each place—then the whole year goes by. Now that I have taught them, twelve secretaries have been appointed to the GBC. They are being trained throughout the world. There is one Indian. They don't know Hindi.)
Yogi Bhajan: . . . (indistinct Hindi)
Prabhupāda: Hindustan me abhi paisa chahte hain kisi tarah se paisa aa jaye aur sab chod diya. (In India they want money, somehow money should come, the rest they have left.)
Yogi Bhajan: I wrote in one of my letter, I say, "I love you very much. Is my Motherland. But one dollar sent to you puts down eight Americans in communication. I regret, I can't take that terrible loss. Therefore the sanction . . . (indistinct) . . ." But you are great. You have built lot of temples there.
Jain Muni: Han, kitne bade, abhi brindavan mein itna bada aur abhi bombay me, bombay me kitna costly hai, itna bada mandir bana rahe hai mumbai me, itna bada land liya hai. hyderabad me 700 acre zameen mili hai. (Yes, so big. Now in Vṛndāvana, it is so big and in Bombay it is so costly. Such a big temple they are constructing in Bombay. Such a vast land they have taken. In Hyderabad they have got seven hundred acres of land.)
Yogi Bhajan: Question is very simple. As far as Golden Temple is concerned, that is Delhi's house . . . (indistinct Hindi) . . . they have lot of temples and a lot of gurudwaras, and let them learn to by themselves. Inko kyo kharab karen. (I have no time to spoil it.) He is great. That is what I want to learn, how he can do that. And I don't believe that. My territory, they define. It starts . . . It ends at the Suez Canal.
Prabhupāda: Suez Canal means whole Mediterranean.
Yogi Bhajan: Yes, Mediterranean. And there I have up to Singapore, Malaysia. So I said, "Well, you have forgotten writing down Burma, and you never wrote a word about India, so goodbye." That is not our territory.Bach gaye. jo bhagavan bachane pe aa jaye to kya baat hai. (We are saved. If the Lord comes to save us, then what to say?)
Prabhupāda: Humlog ka to vichar hai "Bhoktāraṁ yajña-tapasāṁ sarva-loka-maheśvaram" (BG 5.29). Bhagvan Krsna kehte hain "sarva lok mahesvaram" to usme iskcon chod denge, sab bhagvan ka hi hai. (Kṛṣṇa says: "Sarva-loka-maheśvaram." So in this way we will leave out Iskcon, everything belongs to Him.)
Yogi Bhajan: Yeh to apki baat theek hai. to bhagvan bahut bada aage baitha hai, ye jitne mandir hain, once I decided ki jitne Haridwar ke mandir hain vahan panch dafa ghanti bajaiye, 18 din lage mereko. (What you say is right. The Lord is great and sitting in the front, all these temples. Once I decided that in all the temples of Haridwar, ring the bell five times, it took eighteen days for me.)
Prabhupāda: Hamara idhar bhi to ghante ke liye sab sara mohalla ikhatta hua hai. (Here also the entire community has gathered for the bell.)
Yogi Bhajan: Usme hame bolna tha. (For that I had to say.) We have the best attorney here in this area, and you are having a trouble with this temple in New Delhi. Somebody if you can call, because in this area he is the best law attorney.
Prabhupāda: So, you can take the address.
Devotee: We have their phone number.
Yogi Bhajan: We won that . . . recently he won a very big case. This is our daily fight, but it comes on you sometimes. We fight it daily. We fight before it happens to us. If I was to buy this temple I would have insured the title in a suitcase, and I would have filed the suit myself, but on the neighborhood.
Devotee: Yes, well they had approved our moving in.
Yogi Bhajan: That is something later, but I have talked with. That is simple. I would have sued this area. I have heard that I can be damaged, I would have sued them five million dollars, all this area, vicinity. I could have proved it, because I would have done it. Moment they would have filed the case, proof was there. I had not to prove. Their own document would have proved it. But you know that attorney they had.
Jain Muni: Ye bhi Kumbh Mela karte hain. (They also do a Kumbh Mela.)
Yogi Bhajan: So I think here in this case, because this is one of the typical case. Their plea is very simple plea against which you have to come out with a very strong argument. They say it were the temple, a certain frequency. You have changed the frequency, and therefore you have disturbed the environment and the ecology. I studied the entire case. I got all my information sale and I got it. So that's their main contention. Now what you have to prove is very ticklish. Therefore each paper must be filed very comparatively right, because this is they call invocation of the zonal area. To relieve the pressure on the subsidies of the zones and that lies on a miracle. So if your attorney comes down the defense of it, and then you can get under Amendment One, and then they can't touch you. It's a very, very good fight. We fought it. That's why . . . and we won it. They got us on the same point. But what we did was, we had already filed a complaint, or we knew it was going to come. That case went out of the court just like that.
Devotee: We will consult with your attorney.
Yogi Bhajan: No, no, he is expert. They have figured it out. Because we are very conspicuous in this some way. You get away with things, you know, you are all right. But with us it is not. "That's the man. Ge Maine to suna tha ki apke ashram ka . . . (I had heard that your ashram's . . . him.")
Devotee: We have legal battles wherever we go.
Yogi Bhajan: We have a battle on every step. We wear a kirpan (Sikh knife), we have a battle on every step. They say: "It is a knife. You can't carry it." We fight every few steps. Social dangers . . . we have more social aggressive dangers than you folks. But if you just channel it on a patterned style, you know, pattern thirteen. Now what we fight is this fight is pattern thirteen. Fight it. We go, we go through . . . (indistinct Hindi)
Jain Muni: Usually aapke gurudware yahan . . . (Usually your Gurudwaras here . . .)
Yogi Bhajan: Mera Gurudwara nahi pehli baat hai Gurudwara to Guru ka hai. Nahi usme hum sancharan karte hain. ye guru nahi hain. Ye to Sikh hain waise hi jaise doosre Sikh hain. Lekin Sikh banane ka prerna bhi . . . (Not my Gurudwara, this is the first point, Gurudwara belongs to the Guru. No, for that I look after the management, he is not a guru. He is a Sikh like all the other Sikhs. But to become a Sikh is inspiration also . . .) Han-han Ramdas ashram. Wo Ramdas ke prati inki bahut aastha hai aur ek . . . sikshan dete hain. singh saheb ne . . . de rakhi hai inko. wo ek hi hai lekin uske baad to Akal Takht jaise nischay kare inke haath me kuch nahi, inke haath me nahi hai, ye sampatti sansthan ki hai, inki nahi. Inki apni koi sampatti ho, baki kiya inhone ye sab kuch. ye mrg cheshta ki baat hai, ki sab kuch karke bhi guru ko apran kiya . . . (Yes, yes—Ramdas ashram . . . he has a lot of faith in Ramdas and one more . . . he imparts knowledge . . . Mr. Singh . . . has given him. He is alone after him the way Akal Takht decides, there is nothing in his hands. All this property belongs to the organization, not his. He does not own any property, otherwise he has done everything for the organization. This is mrg chesta, that he did everything but offered it to the guru . . .)
Yogi Bhajan: Badi prasannta hui aap se mil kar. (I am very happy to meet you.)
Tamāla Kṛṣṇa: Is Nanda Kumāra ready?
Devotee: Nanda Kumāra is . . . do you want to take here or . . .?
Prabhupāda: No.
Jain Muni: In that room . . . (indistinct Hindi)
Prabhupāda: Ye jo apka World Fellowship . . . (This your World Fellowship.)
Jain Muni: World Fellowship of Religion. Pehle sant Kirpal Singhji the president, unhone sponsor kiya tha lekin abhi ye president hain. abhi last year hua tha. Yogi ji ne bulayi thi. Abhi doosri boola rahe hai na. (It happened last year. Initially saint Kirpal Singh was the president—he had sponsored but now he is the president. It happened last year. The Unity of Man conference. The Unity Of Man Conference was called by Yogi and now the second one is going to be held.)
Yogi Bhajan: Doosri Mexico mein tab wo aayenge. (The second one is in Mexico, then he is going to come.)
Prabhupāda: Main to apko bol diya tha unity kabhi hone wala nahi hai. (I had told you that unity can never happen.)
Jain Muni: Jab tak sab God-minded na hon. (Unless everyone is God minded.)
Prabhupāda: Ye to God khud batata hai "dukhalayam ashashvatam" dukh ka alay hai aaplog thoda compromise kar de chalo ji dukh ka alay idhar hi reh jaye wo bhi nahin chalega. Kuch din baad ashashvatam hato yahan se. jane ki iccha nahi hai baki jana hi padega chalo yahan se. Therefore we are not anxious to adjust things here. hum to problem usko lete hain, kal bhi yehi bataya tha bhagvan ne bataya hai asal problem hai Janma-mṛtyu-jarā-vyādhi. wo problem ko koi haath nahi lagata hai. wo temporary problem hai, usi me phas jata hai. (The Lord Himself says: "Dukhalayam ashasvatam. The house of suffering is there, you people compromise the little house of suffering. Let's only stay here but that also does not work. After some days ashashvatam, move out from here. You don't want to go but you have to go, get out from here. Therefore we are not anxious to adjust things here. We consider that as a problem. Yesterday also I said the same thing—the Lord has stated the actual problem is, "Janma-mṛtyu-jarā-vyādhi." That problem nobody wants to touch. That is a temporary problem, they remain caught in that.)
Jain Muni: Mane Janma-mṛtyu-jarā-vyādhi me kya karenge? (What should we do in Janma-mṛtyu-jarā-vyādhi?)
Prabhupāda: Jaise janm na hoy aur mrtyu na hoy. iske liye prayatn karo aur idhar chahe jitna adjustment karo marna to padega aur marna ko koi nahi chahta hai. Uska liye koi panth hai uske le lo. sabhi manushya, ye koi nahi karta hai. Bada-bada scientist hai wo bomb banata hai marne ke liye, sab marta to hai. (Like there should be no birth and no death—make an effort for this. And here, whatever adjustments you make, you have to die and no one wants to die. For this if there is some way then take it. Everyone, no one does this. Big, big scientists produce a bomb for killing people, everyone has to die.)
Yogi Bhajan: Amarta ke liye to bana nahi sakte aur aap eternal values ka ye movement chalte hain. to farak to hai isme. (They cannot create life for eternity and you are running a movement to impart eternal values. Definitely there is a difference.)
Upendra: Just preparing.
Prabhupāda: Hum to kehta hain bhagvan Krsna ko thoda samajh lo, bhagvan khud kehte hain ki "janm karm cha me divyam jo janati tattvatah tyakta deham punar janma naiti ": to Krsna ko samjho tumhara punar janm nahi hoga. Janm anand hai, ma ke pet me anand hai, asie rehna padta hai dus mahina. Abhi time ho gaya. (I am telling you to try to understand Lord Krsna a little bit. The Lord Himself says that, "Janma karma ca me divyam evaṁ yo vetti tattvataḥ tyaktvā dehaṁ punar janma naiti": So who does not like that you are not born again. Birth is happiness, stay like this for 10 months in the mother's womb. It is time now.) You ready?
Upendra: Just preparing.
Yogi Bhajan: Kuch aur vishesh baat suna dijiye. (Tell us something special.)
Prabhupāda: Vishesh baat, aap to ahimsa ka pracharak hai, kum-se-kum bharat-varsh mein go-hatya to band karva dijiye. Hamara shastra me kehte hain bhagvan "krishi go-raksha vanijya" go-raksha vishesh. (Something special, you people are propagating nonviolence, at least in Bharatvarsha try to stop cow slaughter. In our scriptures the Lord has said: "Kṛṣi-go-rakṣa-vāṇijyam," cow protection special . . .)
Yogi Bhajan: . . . (indistinct Hindi)
Prabhupāda: Nahi hamara Maharaj Parikshit ke samay me ek kala admi gaay ko marne ke liye tayyar tha usi vakt hamare Maharaj poocha kaun ho tum, hamara go hatya karne ko cha raha hai. To wo raja kahan hai? (No, in the time of Mahārāja Parīkṣit one black man was trying to harm a cow and at that moment Mahārāja Parīkṣit asked him, "Who are you? Why are you trying to kill our cow?" Where is such a king now?)
Yogi Bhajan: Hum karenge wo. nahi ye kaam hum karenge. (We will do that, no this work we shall do.)
Prabhupāda: To aapko to yehi bola tha. aaplog to kshatriyai ka kripan dharan karte hain to chatri ka kam kijiye. (I had told you this. You people adopt the Sikh knife of the Ksatriyas. So do the work of the Ksatriya.)
Yogi Bhajan: Hamare yahan baat ye hai 2 lakh hain abhi, kaam bana nahin. 5-6 lakh chahiye jhonkne ko. 5-6 lakh jab jhonkne ko ho jayega to peeche 10 lakh. (We have two lakh now, we need five to six lakh to make it happen. When five to six lakh gets collected. For making it happen, then ten lakh . . .)
Prabhupāda: Apke Sikh community ka to taarif hai main khud janta hoon ye jo do war Britishers got victory aur yeh Sikh log ke liye. I have seen it due to Sikh soldiers. Sikh log kshatriya ka kaam karte hain aur kuch brahmin mane brahmin-kshatriya to chahiye. (You people of the Sikh community are praised. I myself know the two wars when the Britishers got victory, it was because of the Sikh soldiers. Sikh people do the work of Ksatriyas and some brahmins. So brahmana, ksatriya are required.)
Yogi Bhajan: Brahmin to banaane ke liye aap ke paas bhej denge. maine 3-4 apne students ko kaha hai ki Prabhupadji ke paas jake wahan dat jao aur suno wahan kya chalta hai. (To make brahmanas, we will send them to you. I have told three to four students of mine to go to Prabhupāda and stay put there and see what is going on there.)
Prabhupāda: Is waja se co-operation ke liye, aap kshatriya ka bhar lijiye main brahman ka bhar loonga. Brain chahiye, brain brahman aur kshatriya bal. (Due to this reason for cooperation. You take the responsibility of a Ksatriya and we will take the responsibility of brahmins. A brain is needed, a brain for brahmins and Ksatriya strength.)
Yogi Bhajan: Bhai hum to ye kehte hain ki humko agar Akal purkh shakti de aur agar Bhagavati ne hamare ko shakti di to un Bhartiyon ko jinhone gau ka maas khaya hai unko jo us vakt ki sangat karegi vo varnan se bahar hai aur jinhone aake apne bharat ke niyamo ko yahan iman se becha hai unke liye to jo shastra haivo bhi.. hai lekin bo shastra tab hota hai jab peeche uske shastr khada ho jaye. (I say this, that if I am given strength by Akal purkh and if Bhagavati gives me strength—those Indians, those who have eaten cow's meat—to them, at that time what will happen is beyond description. And those who have shamelessly sold the values of India for themselves, the scripture has decided, but it becomes a scripture only when it is backed by arms.)
Prabhupāda: Shastra ka baad shastr. shashan ke liye do cheez hai ek shastra aur ek shastr. (After scripture, arms. For ruling, two things are required—one is scripture and the other is arms.)
Yogi Bhajan: Hum to ek baat jante hain . . . bhagvan dekha hai hamne. God ke centre me organisation wo hai uske baad hai to . . . To ye organisation hai jo bhi hai theek hai aur yehi hamne apne ladkon ko kaha hai agar organisation nahi hai bahar nikal jao. To usme pehle bishwas to ho ki bhagvan hai ya to mante kyun nahin bhagvan hai, go-raksha aur brahman ke seva, ye hamare guru vachan hai. (You have to be God first, to be good to anybody. I know one thing . . . I have seen God. God is the center of the organization, that is there and after that . . . so this organization is there and whatever it is okay and this only I have told my boys if the organization is not there, then leave. You have to be God first and then be good to everybody. So believe in that first, that God exists or why don't you believe God is there? Cow protection and serving the brahmanas, these are the golden words of our master.)
Prabhupāda: "Go-brāhmaṇa-hitāya ca"
Yogi Bhajan: Ye to hamara guru vachan hai, use to hame palna hai. lekin wo charity begins from home. ab jinhone yahan kha-khu liya unke liye mess to prepare karna hai. (These are the golden words of our master. That we have to follow, but charity begins at home. Now those who came here and ate for themselves, we have to prepare a mess.)
Prabhupāda: Hum to bhagvan ko namskar karte hain "Namo brahmaṇya-devāya go-brāhmaṇa-hitāya." (We pay obeisances to the Lord, "Namo brahmaṇya-devāya go-brāhmaṇa-hitāya.")
Yogi Bhajan: Woh to shastra ki agya inlog ko mil jati hai lekin humlog to ahinsa se hi chahte hain . . . ahinsa sabse bada hai jab dharm me pad gaya. (That permission they get from the scriptures but we want it through nonviolence . . . nonviolence is great . . .)
Prabhupāda: Ahinsa to wo hisab kijiye to Krsna kehte hain "na hanyate hanyamane sharire" humlog ka hisab hai hinsa, ye jo manushya jeevan hai is jivan me bhagvan ko mil sakta hai. agar usko bhagvan nahi diya gaya aur idhar-udhar ka cheez diya gaya to hi hinsa. ek cheez milne wala hai usko wo cheez nahi diya gaya, idhar-udhar ka cheez dekar uska time kharab kar diya. (Nonviolence, is what you calculate when Krsna said: "Na hanyate hanyamāne śarīre." Our calculation is violence. In this human form of life you can get God. If he is not given God and is given other things, then it is violence. You are about to get one thing and you are not given that thing, you are given other things and your time is wasted.)
Yogi Bhajan: Wohi mere hisab se swamiji. hinsa aur ahinsa pramad aur akramad me hai. pramad ka matlab hai bhagvan ko bhool jana aur akramad ka matlab hai conciousness jaisa aap kehte hain chaitanya. to baat to wohi hai. (According to our calculation Swamiji, violence and nonviolence is in pramad and akramad. Pramad means to forget God and akramad means consciousness, as you mentioned Caitanya, so it is one and the same . . . )
Prabhupad: Bhagvad mein bhi yehi bataya gaya hai "nunam pramattah kurute vikarmah yad indriya-pritaya aprnoti" ye pramatta hai sab kuch paap karte hain kiske liye indriya pritaya, keval indriya ke liye, koi accha kaam nahi, bus indriya pritaya. To thoda sa prasad sab pa lijiye. idhar to sab ahinsa hi hai. (In the Bhagavad it is said "Nūnaṁ pramattaḥ kurute vikarma yad indriya-prītaya āpṛṇoti." This is lust. They commit sins for what? For gratification of the senses, only for the senses. No pious activity, only sense gratification. So all of you please take a little prasadam. Here everything is nonviolence.) (end)