750716 - Letter to Paramahamsa written from Berkeley
From Vanisource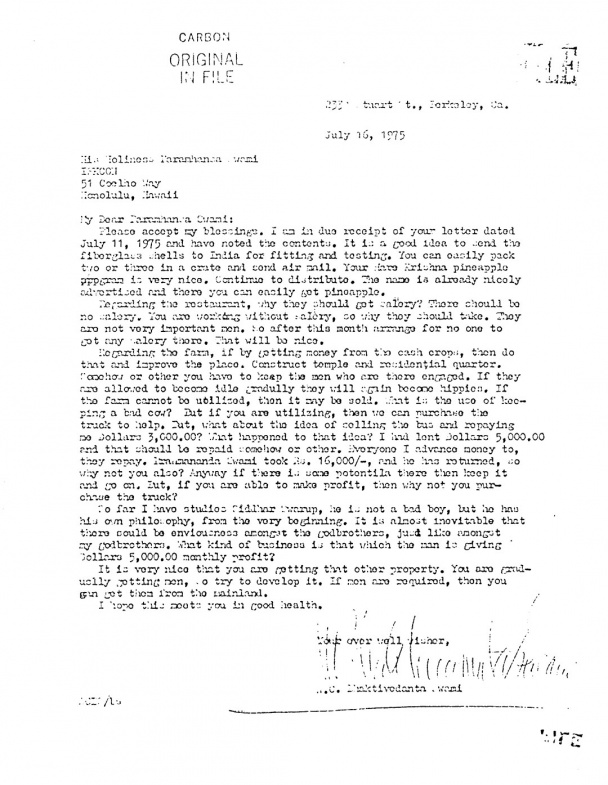 233[unclear] Stuart St., Berkeley, Ca.

July 16, 1975

Hi Holiness Paramhansa Swami
ISKCON
51 Coelho Way
Honolulu, Hawaii
My Dear Paramahansa Swami:
Please accept my blessings. I am in due receipt of your letter dated July 11, 1975 and have noted the contents. It is a good idea to send the fiberglass shells to India for fitting and testing. You can easily pack two or three in a crate and send air mail. Your Hare Krishna pineapple program is very nice. Continue to distribute. The name is already nicely advertised and there you can easily get pineapple.
Regarding the restaurant, why they should get salary? There should be no salary. You are working without salary, so why they should take. They are not very important men. So after this month arrange for no one to get any salary there. That will be nice.
Regarding the farm, if by getting money from the cash crops, then do that and improve the place. Construct temple and residential quarter. Somehow or other you have to keep the men who are there engaged. If they are allowed to become idle gradually they will again become hippies. If the farm cannot be utilized, then it may be sold. What is the use of keeping a bad cow? But if you are utilizing, then we can purchase the truck to help. But, what about the idea of selling the bus and repaying me Dollars 3,000.00? What happened to that idea? I had lent Dollars 5,000.00 and that should be repaid somehow or other. Everyone I advance money to, they repay. Brahmananda Swami took Rs. 16,000/-, and he has returned, so why not you also? Anyway, if there is some potential there then keep it and go on. But, if you are able to make profit, then why not you purchase the truck?
So far I have studies Siddhar Swarup, he is not a bad boy, but he has his own philosophy, from the very beginning. It is almost inevitable that there could be enviousness amongst the godbrothers, just like amongst my godbrothers. What kind of business is that which the man is giving Dollars 5,000.00 monthly profit?
It is very nice that you are getting that other property. You are gradually getting men, so try to develop it. If men are required, then you can get them from the mainland.
I hope this meets you in good health.