750714 - Letter to Giriraja written from Philadelphia
From Vanisource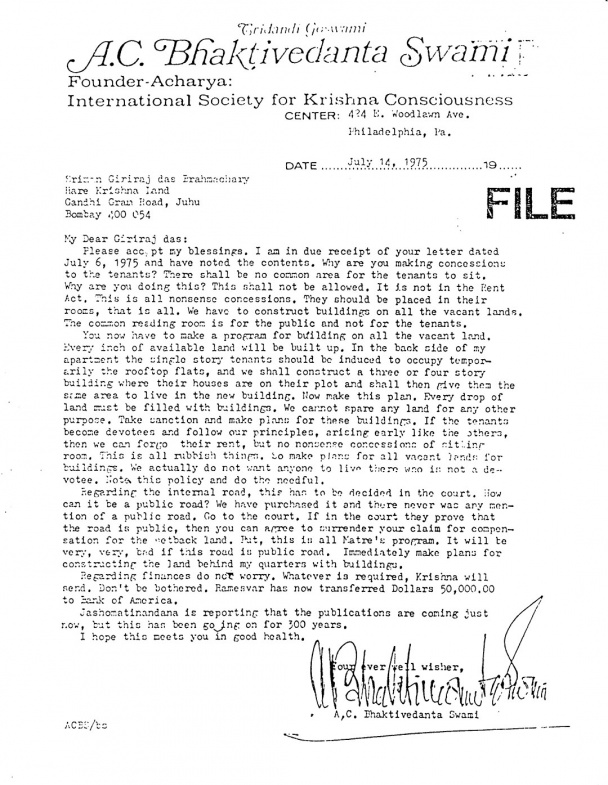 Tridandi Goswami
A.C. Bhaktivedanta Swami
Founder-Acharya:
International Society for Krishna Consciousness
CENTER: 424 E. Woodlawn Ave.
Philadelphia, Pa.

DATE .......July.14,..1975..............19.....
Sriman Giriraj das Brahmachary
Hare Krishna Land
Gandhi Gram Road, Juhu
Bombay 400 054
My Dear Giriraj das:
Please accept my blessings. I am in due receipt of your letter dated July 6, 1975 and have noted the contents. Why are you making concessions to the tenants? There shall be no common area for the tenants to sit. Why are you doing this? This shall not be allowed. It is not in the Rent Act. This is all nonsense concessions. They should be placed in their rooms, that is all. We have to construct buildings on all the vacant lands. The common reading room is for the public and not for the tenants.
You now have to make a program for building on all the vacant land. Every inch of available land will be built up. In the back side of my apartment the single story tenants should be induced to occupy temporarily the rooftop flats, and we shall construct a three or four story building where their houses are on their plot and shall then give them the same area to live in the new building. Now make this plan. Every drop of land must be filled with buildings. We cannot spare any land for any other purpose. Take sanction and make plans for these buildings. If the tenants become devotees and follow our principles, arising early like the others, then we can forgo their rent, but no nonsense concessions of sitting room. This is all rubbish things. So make plans for all vacant lands for buildings. We actually do not want anyone to live there who is not a devotee. Note this policy and do the needful.
Regarding the internal road, this has to be decided in the court. How can it be a public road? We have purchased it and there never was any mention of a public road. Go to the court. If in the court they prove that the road is public, then you can agree to surrender your claim for compensation for the setback land. But, this is all Matre's program. It will be very, very, bad if this road is public road. Immediately make plans for constructing the land behind my quarters with buildings.
Regarding finances do not worry. Whatever is required, Krishna will send. Don't be bothered. Ramesvar has now transferred Dollars 50,000.00 to Bank of America.
Jasomatinandana is reporting that the publications are coming just now, but this has been going on for 300 years.
I hope this meets you in good health.