750708 - Letter to Gurukrpa written from Chicago
From Vanisource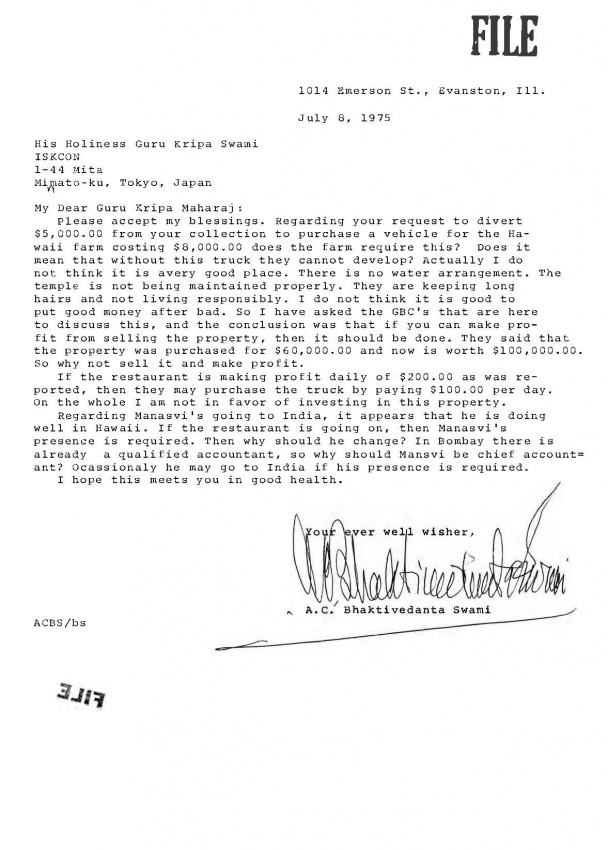 1014 Emerson St., Evanston, Ill.
July 8, 1975
His Holiness Guru Kripa Swami
ISKCON
1-44 Mita
Mimato-ku, Tokyo, Japan
My Dear Guru Kripa Maharaj:
Please accept my blessings. Regarding your request to divert $5,000.00 from your collection to purchase a vehicle for the Hawaii farm costing $8,000.00 does the farm require this? Does it mean that without this truck they cannot develop? Actually I do not think it is a very good place. There is no water arrangement. The temple is not being maintained properly. They are keeping long hairs and not living responsibly. I do not think it is good to put good money after bad. So I have asked the GBC's that are here to discuss this, and the conclusion was that if you can make profit from selling the property, then it should be done. They said that the property was purchased for $60,000.00 and now is worth $100,000.00. So why not sell it and make profit.
If the restaurant is making profit daily of $200.00 as was reported, then they may purchase the truck by paying $100.00 per day. On the whole I am not in favor of investing in this property.
Regarding Manasvi's going to India, it appears that he is doing well in Hawaii. If the restaurant is going on, then Manasvi's presence is required. Then why should he change? In Bombay there is already a qualified accountant, so why should Manasvi be chief accountant? Occasionally he may go to India if his presence is required.
I hope this meets you in good health.