750701 - Letter to Hrdayananda written from Denver
From Vanisource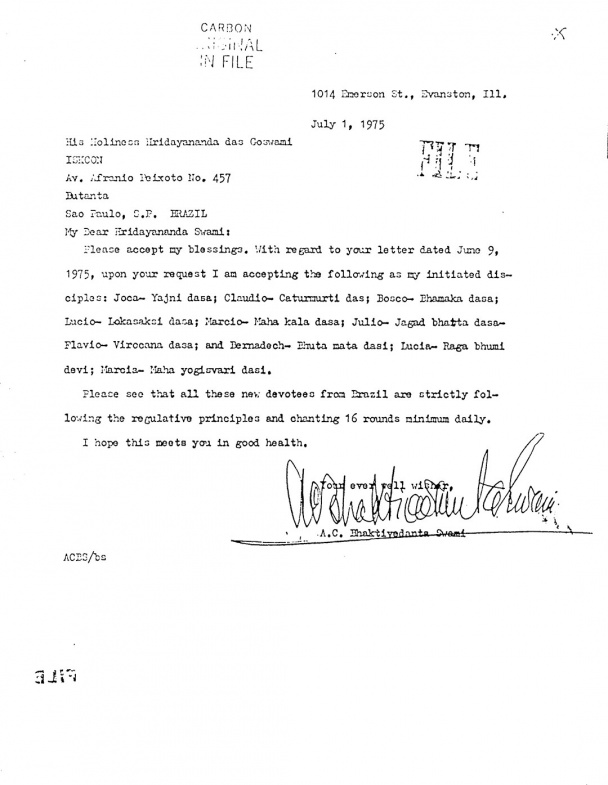 1014 Emerson St., Evanston, I11

July 1, 1975
His Holiness Hridayananda Das Goswami
ISKCON
Av. Afranio Peixoto No. 457
Butanta
Sao Paulo, S.P. BRAZIL
My Dear Hridayananda Swami:
Please accept my blessings. With regard to your letter dated June 9, 1975, upon your request I am accepting the following as my initiated disciples: Joca- Yajni dasa; Claudio- Caturmurti das; Bosco- Bhamaka dasa; Lucio- Lokasaksi dasa; Marcio- Maha kala dasa; Julio- Jagad bharta dasa; Flavio- Virocana dasa; and Bernadech- Bhuta mata dasi; Lucia- Raga bhumi devi; Marcia- Maha yogisvari dasi.
Please see that all these new devotees from Brazil are strictly following the regulative principles and chanting 16 rounds minimum daily.
I hope this meets you in good health.

Your ever well-wisher,



A.C. Bhaktivedanta Swami
ACBS/bs