750619 - Letter to Gopijanavallabha written from Honolulu
From Vanisource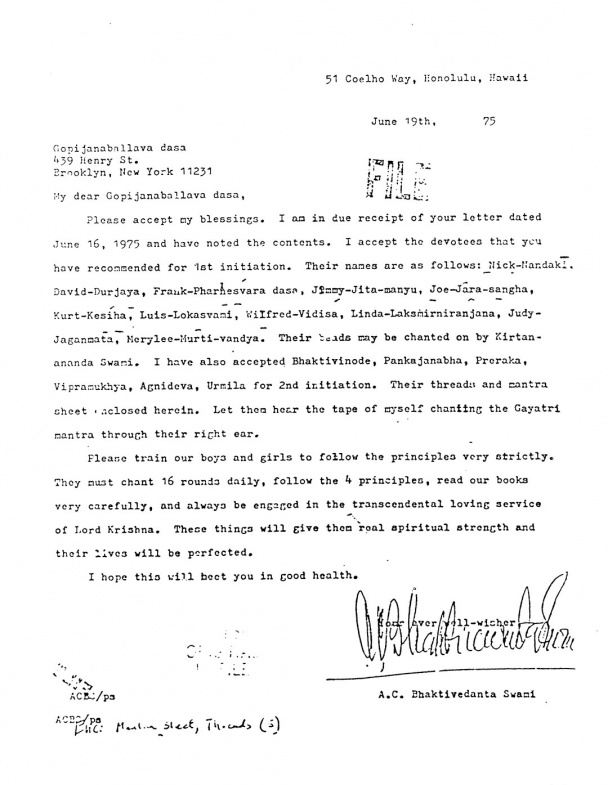 51 Coelho Way, Honolulu, Hawaii

June 19th,           75
Gopijanaballava dasa
439 Henry St.
Brooklyn, New York 11231
My dear Gopijanaballava dasa,
Please accept my blessings. I am in due receipt of your letter dated June 16, 1975 and have noted the contents. I accept the devotees that you have recommended for 1st initiation. Their names are as follows: Nick—Nandaki, David—Durjaya, Frank—Pharnesvara dasa, Jimmy—Jita-manyu, Joe—Jara-sangha, Kurt—Kesiha, Luis—Lokasvami, Wilfred—Vidisa, Linda—Laksmirniranjana, Judy—Jaganmata, Merylee—Murti-vandya. Their beads may be chanted on by Kirtanananda Swami. I have also accepted Bhaktivinode, Pankajanabha, Preraka, Vipramukhya, Agnideva, Urmila for 2nd initiation. Their threads and mantra sheet enclosed herein. Let them hear the tape of myself chanting the Gayatri mantra through their right ear.
Please train our boys and girls to follow the principles very strictly. They must chant 16 rounds daily, follow the 4 principles, read our books very carefully, and always be engaged in the transcendental loving service of Lord Krishna. These things will give them real spiritual strength and their lives will be perfected.
I hope this will meet you in good health.

A.C. Bhaktivedanta Swami
ACBS/ps
Encl: Mantra sheet, Threads (3) [handwritten]