750526 - Letter to Aksayananda and Dhananjaya written from Honolulu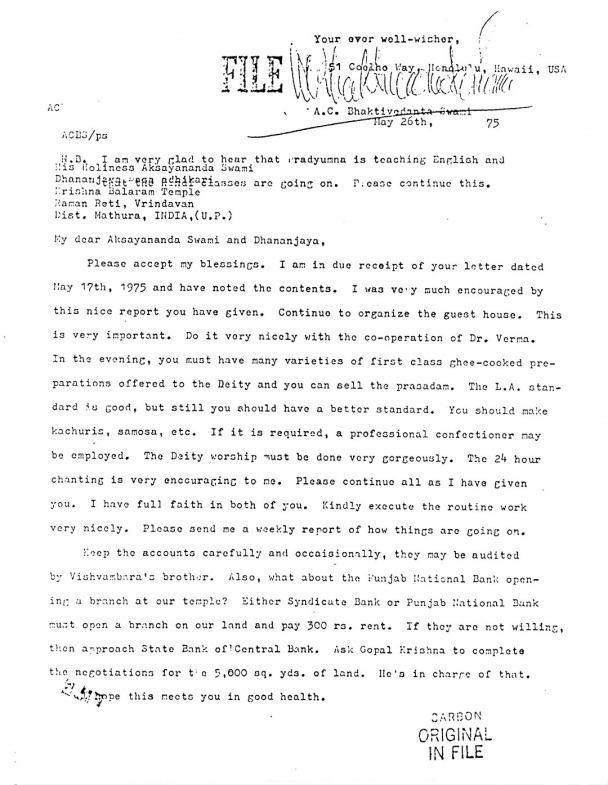 51 Coelho Way, Honolulu, Hawaii, USA

May 26th,           75

His Holiness Aksayananda Swami
Dhananjaya Dasa adhikari
Krishna Balaram Temple
Raman Reti, Vrindavan Dist. Mathura, INDIA,(U.P.)
My dear Aksayananda Swami and Dhananjaya,
Please accept my blessings. I am in due receipt of your letter dated May 17th, 1975 and have noted the contents. I was very much encouraged by this nice report you have given. Continue to organize the guest house. This is very important. Do it very nicely with the co-operation of Dr. Verma. In the evening, you must have many varieties of first class ghee-cooked preparations offered to the Deity and you can sell the prasadam. The L.A. standard is good, but still you should have a better standard. You should make kachuris, samosa, etc. If it is required, a professional confectioner may be employed. The Deity worship must be done very gorgeously. The 24 hour chanting is very encouraging to me. Please continue all as I have given you. I have full faith in both you. Kindly execute the routine work very nicely. Please send me a weekly report of how things are going on.
Keep the accounts carefully and occasionally, they may be audited by Vishvambara's brother. Also, what about the Punjab National Bank opening a branch at our temple? Either Syndicate Bank or Punjab National Bank must open a branch on our land and pay 300 rs. rent. If they are not willing, then approach State Bank of Central Bank. Ask Gopal Krishna to complete the negotiations for the 5,000 sq. yds. of land. He's in charge of that.
I hope this meets you in good health.
Your ever well-wisher,



A.C. Bhaktivedanta Swami
ACBS/ps
N.B. I am very glad to hear that Pradyumna is teaching English and that the classes are going on. Please continue this.