750502 - Letter to Mahamsa written from Delhi
From Vanisource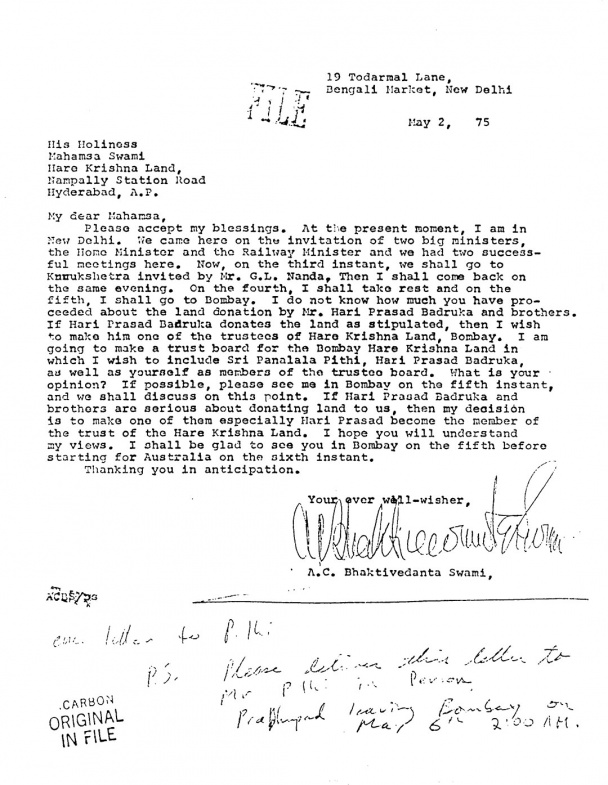 19 Todarmal Lane,
Bengali Market, New delhi

May 2,     75
His Holiness
Mahamsa Swami
Hare krishna Land,
Nampally Station Road
Hyderabad, A.P.
My dear Mahamsa,
Please accept my blessings. At the present moment, I am in New Delhi. We came here on the invitation two big ministers, the Home Minister and the Railway Minister and we had two successful meetings here. Now, on the third instant, we shall go to Kurukshetra invited by Mr. G.L. Nanda. Then I shall come back on the same evening. On the fourth, I shall take rest and on the fifth, I shall go to Bombay. I do not know how much you have proceeded about the land donation by Mr. Hari Prasad Badruka and brothers. If Hari Prasad Badruka donates the land as stipulated, then I wish to make him one the trustees Hare Krishna Land, Bombay. I am going to make a trust board for the Bombay Hare Krishna Land in which I wish to include Sri Panalala Pithi, Hari Prasad Badruka, as well as yourself as members of the trustee board. What is your opinion? If possible, please see me in Bombay on the fifth instant, and we shall discuss on this point. If Hari Prasad Badruka and brothers are serious about donating land to us, then my decision is to make one of them especially Hari Prasad become the member of the trust of the Hare Krishna Land. I hope you will understand my views. I shall be glad to see you in Bombay on the fifth before starting for Australia on the sixth instant.
Thanking you in anticipation.

Your ever well-wisher,



A.C. Bhaktivedanta Swami
ACBS/ps

[unclear] letter to [unclear]
P.S. Please [unclear] this letter to [unclear] in Person
[unclear] leaving Bombay on Mar. 6th 7:00 AM. [handwritten]