750215 - Letter to Doctor Currier written from Mexico City
From Vanisource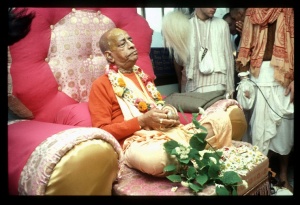 February 15, 1975

Mexico City, Mexico
Gobernador Tiburcio, Montiel No. 45
San Miguel, Mexico 18, D.F.
W.D. Currier, M.D., Inc.
960 East Greet Street
Pasadena, California 91101

My dear Doctor Currier,
Please accept my greetings. I am in due receipt of your letter dated Feb. 7th, 1975 and have noted the contents carefully. Thank you for your kind suggestions and interest in our movement. In brief, I have always instructed my disciples to eat only healthy foodstuffs which will be beneficial for the body and mind. Not only that, but I have also instructed that whatever they eat must be first offered to the Supreme Lord Krishna for His pleasure and then they can take the remnants which are called Prasadam or mercy of the Lord. We are very practical. Whatever is necessary for the maintenance of the body and mind, we will accept. I have never said that my disciples should sever all relationships with friends, relatives and others, but sometimes an inexperienced devotee may do it out of fear of being too much attracted to the materialistic way of life by associating with such persons. An experienced devotee is strong enough not to be affected, rather he can help others to become purified by his association. For more information, I suggest you visit one of our centers there in California. Thank you again for your concern.
I hope this meets you in good health.
Your ever well-wisher,
A.C. Bhaktivedanta Swami
ACBS/ps