750117 - Letter to Rupanuga written from Bombay
From Vanisource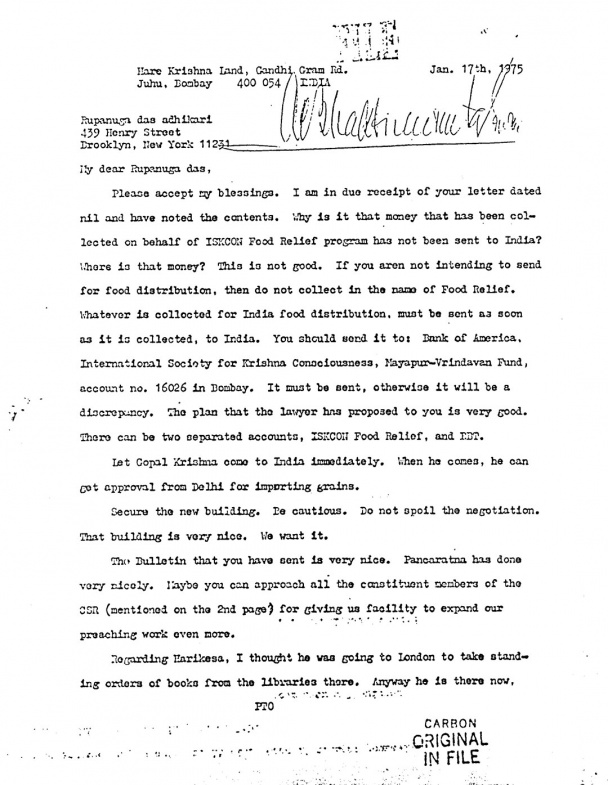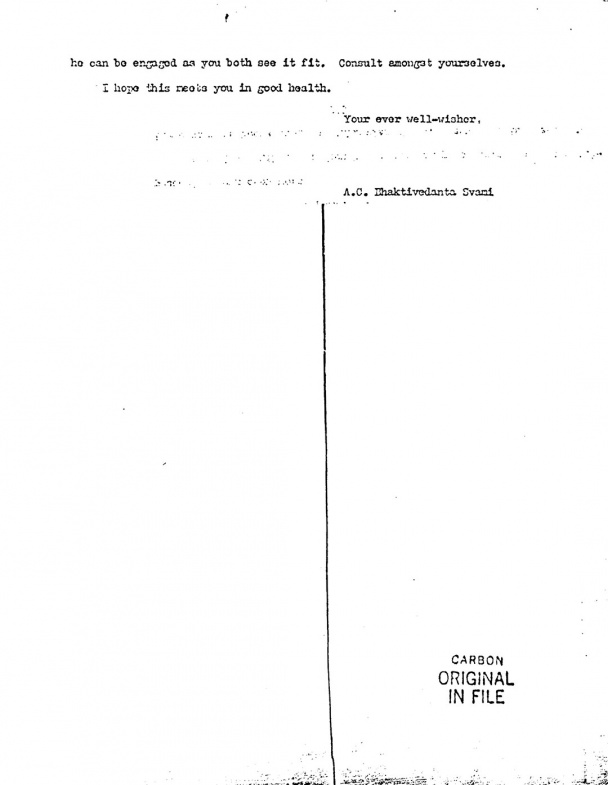 Hare Krishna Land, Gandhi Gram Rd.
Juhu, Bombay 400 054 INDIA
Rupanuga das adhikari
439 Henry Street
Brooklyn, New York 11231
My dear Rupanuga das,
Please accept my blessings. I am in due receipt of your letter dated nil and have noted the contents. Why is it that money that has been collected on behalf of ISKCON Food Relief program has not been sent to India? Where is that money? This is not good. If you are not intending to send for food distribution, then do not collect in the name of Food Relief. Whatever is collected for India food distribution, must be sent as soon as it is collected, to India. You should send it to: Bank of America, International Society for Krishna Consciousness, Mayapur-Vrindavana Fund, account no. 16026 in Bombay. It must be sent, otherwise it will be a discrepancy. The plan that the lawyer has proposed to you is very good. There can be two separated accounts, ISKCON Food Relief, and BBT.
Let Gopal Krishna come to India immediately. When he comes, he can get approval from Delhi for importing grains.
Secure the new building. Be cautious. Do not spoil the negotiation. That building is very nice. We want it.
The Bulletin that you have sent is very nice. Pancaratna has done very nicely. Maybe you can approach all the constituent members of the CSR (mentioned on the 2nd page) for giving us facility to expand our preaching work even more.
Regarding Harikesa, I thought he was going to London to take standing orders of books from the libraries there. Anyway he is there now, he can be engaged as you both see it fit. Consult amongst yourselves.
I hope this meets you in good health.
Your ever well-wisher,
[text missing]
A.C. Bhaktivedanta Svami