750106 - Letter to Pancadravida written from Bombay
From Vanisource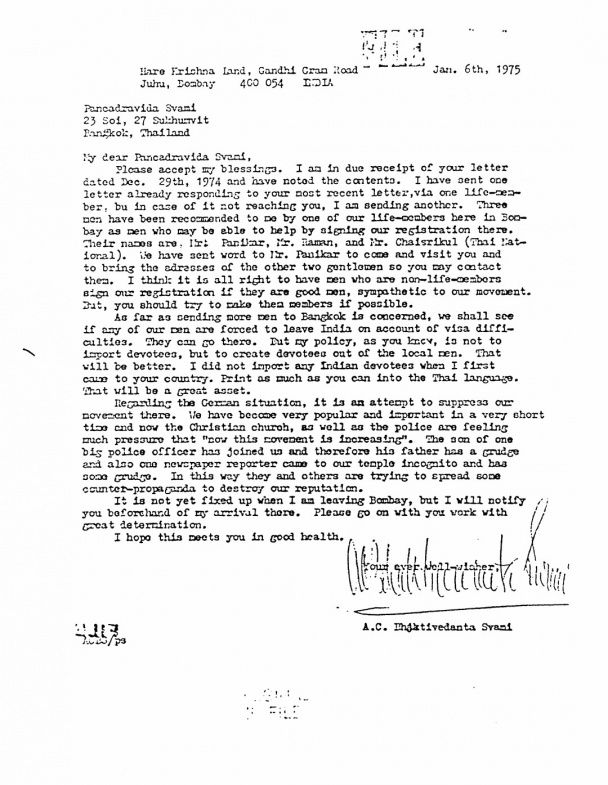 Hare Krishna Land, Gandhi Gram Road,
Juhu, Bombay   400 054   INDIA
Jan. 6th, 1975
Pancadravida Svami
23 Soi, 27 Sukhhumvit
Bangkok, Thailand
My dear Pancadravida Svami,
Please accept my blessings. I am in due receipt of your letter dated Dec. 29th, 1974 and have noted the contents. I have sent one letter already responding to your most recent letter, via one life-member, but in case of it not reaching you, I am sending another. Three men have been recommended to me by one of our life-members here in Bombay as men who may be able to help by signing our registration there. Their names are, Mr. Panikar, Mr. Raman, and Mr. Chaisrikul (Thai National). We have sent word to Mr. Panikar to come and visit you and to bring the addresses of the other two gentlemen so you may contact them. I think it is all right to have men who are non-life-members sign our registration if they are good men, sympathetic to our movement. But, you should try to make them members if possible.
As far as sending more men to Bangkok is concerned, we shall see if any of our men are forced to leave India on account of visa difficulties. They can go there. But my policy, as you know, is not to import devotees, but to create devotees out of the local men. That will be better. I did not import any Indian devotees when I first came to your country. Print as much as you can into the Thai language. That will be a great asset.
Regarding the German situation, it is an attempt to suppress our movement there. We have become very popular and important in a very short time and now the Christian church, as well as the police are feeling much pressure that "now this movement is increasing". The son of one big police officer has joined us and therefore his father has a grudge and also one newspaper reporter came to our temple incognito and has some grudge. In this way they and others are trying to spread some counter-propaganda to destroy our reputation.
It is not yet fixed up when I am leaving Bombay, but I will notify you beforehand of my arrival there. Please go on with your work with great determination.
I hope this meets you in good health.
Your ever well-wisher,



A.C. Bhaktivedanta Swami
ACBS/ps