741227 - Letter to Jayatirtha written from Bombay
From Vanisource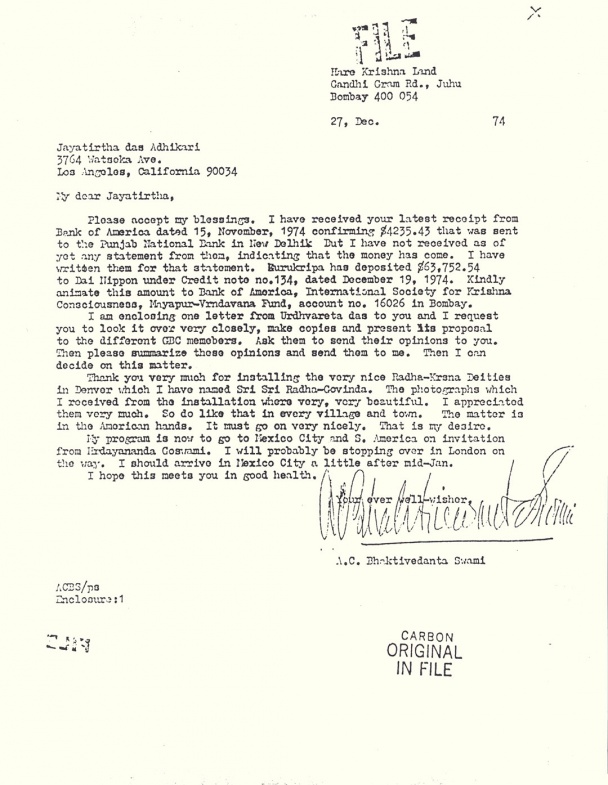 Hare Krishna Land
Gandhi Gram Rd., Juhu
Bombay 400 054
27, Dec.                         74

Jayatirtha das Adhikari
3764 Watseka Ave.
Los Angeles, California 90034
My dear Jayatirtha,
Please accept my blessings. I have received your latest receipt from Bank of America dated 15, November, 1974 confirming $4235.43 that was sent to the Punjab National Bank in New Delhi. But I have not received as of yet any statement from them, indicating that the money has come. I have written them for that statement. Gurukripa has deposited $63,752.54 to Dai Nippon under Credit note no.134, dated December 19, 1974. Kindly animate this amount to Bank of America, International Society for Krishna Consciousness, Mayapur-Vrndavana Fund, account no. 16026 in Bombay.
I am enclosing one letter from Urdhvareta das to you and I request you to look it over very closely, make copies and present its proposal to the different GBC members. Ask them to send their opinions to you. Then please summarize these opinions and send them to me. Then I can decide on this matter.
Thank you very much for installing the very nice Radha-Krsna Deities in Denver which I have named Sri Sri Radha-Govinda. The photographs which I received from the installation where very, very beautiful. I appreciated them very much. So do like that in every village and town. The matter is in the American hands. It must go on very nicely. That is my desire.
My program is now to go to Mexico City and S. America on invitation from Hrdayananda Goswami. I will probably be stopping over in London on the way. I should arrive in Mexico City a little after mid-Jan.
I hope this meets you in good health.
Your ever well-wisher,


A.C. Bhaktivedanta Swami
ACBS/ps
Enclosures:1