741204 - Letter to Aksojananda written from Bombay
From Vanisource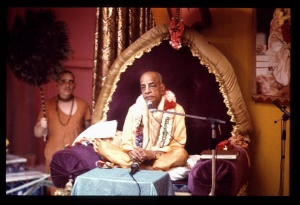 4/12/74
Hare Krishna Land, Gandhi Gram Road
Juhu, Bombay 400 054
His Holiness Aksojananda Swami
c/o Swami Abhedananda Ashram
Trivandrom Fort, 23
Kerala State
My Dear Aksojananda Swami,
Please accept my blessings. I beg to acknowledge receipt of your letter dated November 28, 1974 and have noted the contents. So every month you send kindly a statement of how much money is received and how much spent.
Regarding opening the center in Madras, the thing is whether the South Indians are joining. We cannot increase the number of centers depending on foreign devotees. We have to find out this source first of all. One or Two foreigners may remain but to conduct a center we need at least 10 men. So unless you find out some local assistance I think it not advisable to open a center. Madras is a very good place for preaching but whether there are sufficient hands how we can open?
One thing, if you can convince the DMK party about the importance of Vaisnava philosophy, it will be a great triumph. The DMK party is unnecessarily antagonistic to Lord Ramachandra. Lord Ramachandra took action on the misdeeds of Ravana but was never inimical to the family of Ravana. He was very friendly to Ravana's brother, and actually after killing Ravana, He handed over the kingdom to his brother. He never enjoyed the kingdom personally, neither He has got any necessity for acquiring other's kingdom and enjoying it.
If some of the leading men can be convinced and you can make a peaceful atmosphere, it will be a great triumph.
I hope this meets you in good health.
Your ever well-wisher,
A.C. Bhaktivedanta Swami
ACBS/bs