741203 - Letter to Agent, Central Bank of India written from Bombay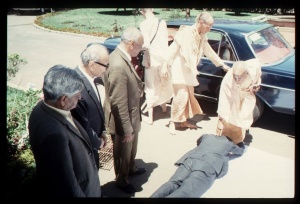 December 03, 1974

The Agent
Central Bank of India
Camac Street Branch
10, Camac Street
Calcutta-17
VIA REGISTERED A.D.
Hare Krishna Land, Gandhi Gram Road
Juhu, Bombay 400 054
Re: Credit of interest on L.T.D. 5/17 for Rs. 73,000/- to my H/S A/c 831 with you.

Dear Sir:
I am in due receipt of your letter dated November 21, 1974 and have noted the contents. As requested by you I am herewith enclosing herewith the Deposit Receipt as referred to above duly endorsed by me for crediting the interest monthly to my S/A/c 821. As I am now out of Calcutta, the Deposit Receipt certificate may be kept in your custody until I collect it upon my return. I am also enclosing herewith one check for Dollar 1000.00 No. _____ which please credit to my S A/c 831 and oblige.
Please acknowledge receipt.
Thanking you.
Faithfully yours,
A.C. Bhaktivedanta Swami
Enc: 1 Deposit Receipt & 1 check.
ACBS/bs