741126 - Letter to Manager of Punjab National Bank written from Bombay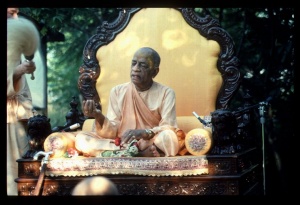 26/11 74
Hare Krishna Land, Gandhi Gram Road
Juhu, Bombay 400 054
The Manager
Punjab National Bank
Vrindaban Branch
Dist. Mathura, U.P.
Dear Sir:
Re: A/c 668 Mayapur-Vrindaban Trust
It is understood that you have received the following amounts: Rs.- 77,800/- on 20/11/74 and Rs. 33,690/- on 24/11/74. So please make these two amounts into a Fixed Deposit Receipt for six months from the date of receipt at the current rate of interest of 7%. The interest may be credited every month to A/c 668 Mayapur-Vrindaban Trust. The Fixed Deposit Receipt certificates may be kept in your custody until I return.
Please acknowledge receipt.
Faithfully yours,
A.C. Bhaktivedanta Swami
ACBS/bs