741121 - Letter to Madhudvisa written from Bombay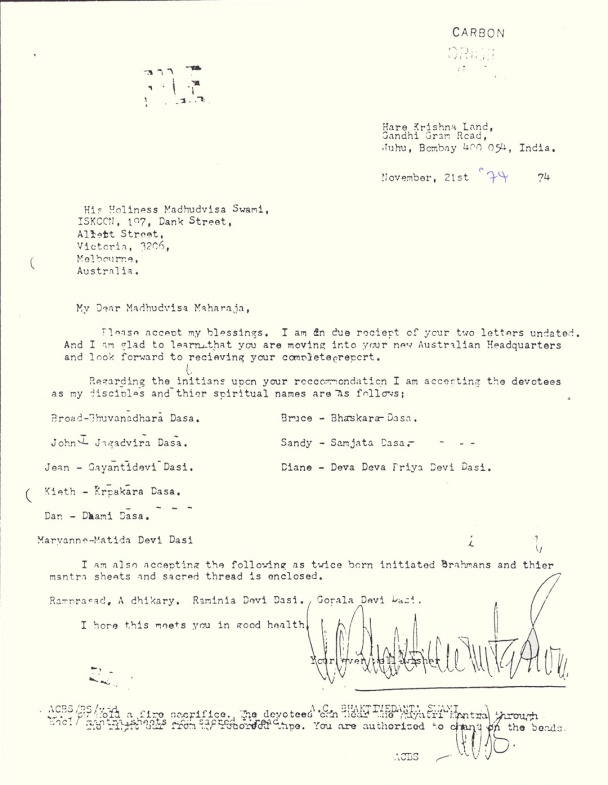 Hare Krishna Land,
Gandhi Gram Road,
Juhu, Bombay 400 0054, India.
November, 21st '74 [handwritten]       74
His Holiness Madhudvisa Swami,
ISKCON, 197, Dank Street,
Albert Street,
Victoria, 3206,
Melbourne,
Autralia.

My Dear Madhudvisa Maharaja,
Please accept my blessings. I am in due reciept of your two letters undated. And I am glad to learn that you are moving into your new Australian Headquarters and look forward to receiving your complete report.
Regarding the initiations upon your recommendation I am accepting the devotees as my disciples and their spiritual names are as follows:
Broad-Bhuvanadhara Dasa.                   Bruce - Bhaskara Dasa.
John - Jagadvira Dasa.                         Sandy - Samjata Dasa.
Jean - Gayantidevi Dasi.                       Diane - Deva Deva Priya Devi Dasi.
Keith - Krpakara Dasa.
Dan - Dhami Dasa.
Maryanne-Matida Devi Dasi.
I am also accepting the following as twice born initiated Brahmans and their mantra sheets and sacred thread is enclosed.
Ramprasada Adhikari.   Raminia Devi Dasi.   Gopala Devi Dasi.
I hope this meets you in good health.

A.C. BHAKTIVEDANTA SWAMI
ACBS/BS/vdd
Now hold a fire sacrifice. The devotees can hear the gayatri mantra through the right ear from my recorded tape. You are authorized to chant on the beads.
     


ACBS