741119 - Letter to Punjabe National Bank written from Bombay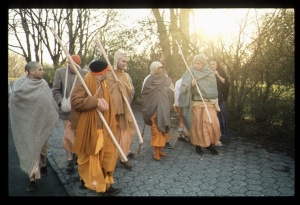 November 19, 1974

Resolution
At the meeting of the members of the Bureau of the International Society for Krishna Conciousness held at their Head Office at the Hare Krishna Land, Gandhi Gram Road, Juhu, Bombay on the 19th day of November, 1974, the following was resolved:
1. That a Current Account be opened with Punjab National Bank, Bengali Market Branch, New Delhi.
2. That the name of the Current Account be INTERNATIONAL SOCIETY FOR KRISHNA CONCIOUSNESS (ISKCON).
3. That the account will be be operated jointly by Sriman Tejiyas das Adhikary and Sriman Pralad Rakshaka das Brahmachary, whose signatures appear below.
Attested Signatures:
Tejiyas Das Adhilkari
Prahlad Rakshaka das Brahmachary
Brahmananda Swami
Signed: A.C. Bhaktivedanta Swami