741117 - Letter to Jayapataka and Bhavananda written from Bombay
[[File:Go-previous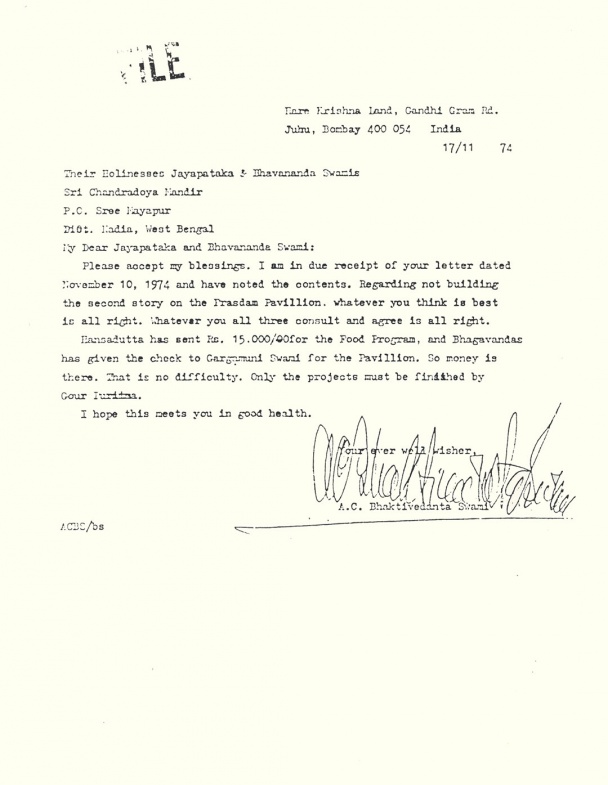 Hare Krishna Land, Gandhi Gram Rd.
Juhu, Bombay 400 054     India
17/11       74
Their Holiness Jayapataka & Bhavananda Swami
Sri Chandradoya Mandir
P.O. Sree Mayapur
Dist. Nadia, West Bengal
My Dear Jayapataka and Bhavananda Swami:
Please accept my blessings. I am in due receipt of your letter dated November 10, 1974 and have noted the contents. Regarding not building the second story on the Prasdam Pavilion, whatever you think is best is all right. Whatever you all three consult and agree is all right.
Hansadutta has sent RS. 15,000/00 for the Food Program, and Bhagavandas has given the check to Gargamuni Swami for the Pavilion. So money is there. That is no difficulty. Only the projects must be finished by Gour Purnima.
I hope this meets you in good health.

Your ever well-wisher,



A.C. Bhaktivedanta Swami
ACBS/bs