Radharani

Krishna

Caitanya

God

God's Holy Names

Krishna Consciousness Movement

Who Is Srila Prabhupada

his Timeline

Months in his Life

Training his Disciples

Questions

Bhagavad-gita

Devotees of God

Devotional Service to God

Discipleship

Guru / Acharya

Essential Subjects

Nectar Drops

What's in Vanipedia now

Glorious Personalities

Yoga

Collaborate with us to invoke and fully manifest Srila Prabhupada's Vani-presence.
---
741117 - Letter to Dr. Ghosh written from Bombay
From Vanisource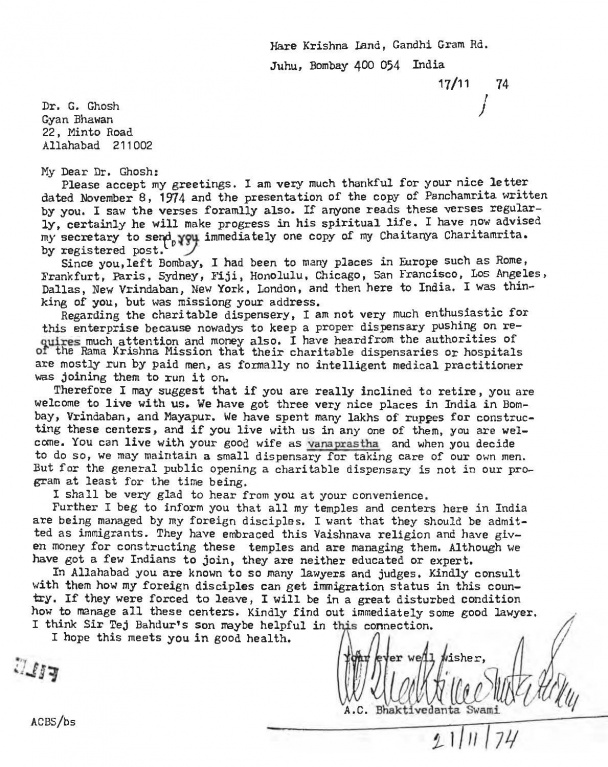 November 17, 1974
Gyan Bhawan
22, Minto Road
Allahabad 211002

My Dear Dr. Ghosh:
Please accept my greetings. I am very much thankful for your nice letter dated November 8, 1974 and the presentation of the copy of Pancamrta written by you. I saw the verses formally also. If anyone reads these verses regularly certainly he will make progress in his spiritual life. I have now advised my secretary to send you immediately one copy of my Caitanya Caritamrta. by registered post.
Since you left Bombay, I had been to many places in Europe such as Rome, Frankfurt, Paris, Sydney, Fiji, Honolulu, Chicago, San Francisco, Los Angeles, Dallas, New Vrindaban, New York, London, and then here to India. I was thinking of you, but was missing your address.
Regarding the charitable dispensary, I am not very much enthusiastic for this enterprise because nowadays to keep a proper dispensary pushing on requires much attention and money also. I have heard from the authorities of the Rama Krishna Mission that their charitable dispensaries of hospitals are mostly run by paid men, as formally no intelligent medical practitioner was joining them to run it on.
Therefore I may suggest that if you are really inclined to retire, you are welcome to live with us. We have got three very nice places in India in Bombay, Vrindaban, and Mayapur. We have spent many lakhs of rupees for constructing these centers, and if you live with us in any one of them, you are welcome. You can live with your good wife as vanaprastha, and when you decide to do so, we may maintain a small dispensary for taking care of our own men. But for the general public opening a charitable dispensary is not in our program at least for the time being.
I shall be very glad to hear from you at your convenience.
Further I beg to inform you that all my temples and centers here in India are being managed by my foreign disciples. I want that they should be admitted as immigrants. They have embraced this Vaisnava religion and have given money for constructing these temples and are managing them. Although we have got a few Indians to join, they are neither educated or expert.
In Allahabad you are known to so many lawyers and judges. Kindly consult with them how my foreign disciples can get immigration status in this country. If they were forced to leave, I will be in a great disturbed condition how to manage all these centers. Kindly find out immediately some good lawyer. I think Sir Tej Bahdur's son maybe helpful in this connection.
I hope this meets you in good health.
Your ever well wisher,
A.C. Bhaktivedanta Swami
ACBS/bs