741116 - Letter to Jayatirtha & Karandhar written from Bombay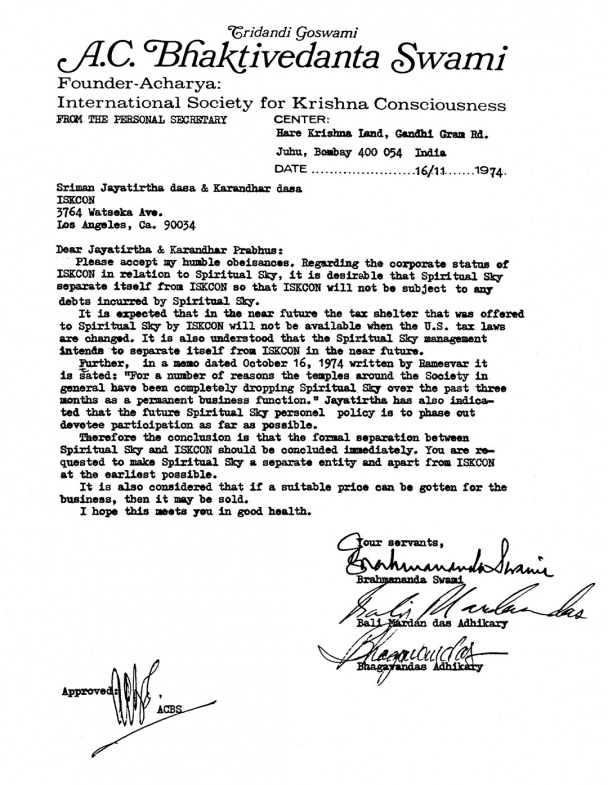 Tridandi Goswami
A.C.BHAKTIVEDANTA SWAMI
Founder-Acharya:
International Society For Krishna Consciousness
FROM THE PERSONAL SECRETARY
CENTER:
Hare Krishna Land, Gandhi Gram Rd.
Juhu, Bombay 400 054   India
DATE .................16/11.....1974.
Sriman Jayatirtha dasa & Karandhar dasa
ISKCON
3764 Watseka Ave.
Los Angeles, Ca. 90034
Dear Jayatirtha & Karandhar Prabhus:
Please accept my humble obeisances. Regarding the corporate status of ISKCON in relation to Spiritual sky, it is desirable that Spiritual Sky separate itself from ISKCON so that ISKCON will not be subject to any debts incurred by Spiritual Sky.
It is expected that in the near future the tax shelter that was offered to Spiritual Sky by ISKCON will not be available when the U.S. tax laws are changed. It is also understood that the Spiritual Sky management intends to separate itself from ISKCON in the near future.
Further, in a memo dated October 16, 1974 written by Ramesvar it is stated: "For a number of reasons the temples around the Society in general have been completely dropping Spiritual Sky over the past three months as a permanent business function." Jayatirtha has also indicated that the future Spiritual Sky personnel policy is to phase out devotee participation as fas as possible.
Therefore the conclusion is that the formal separation between Spiritual Sky and ISKCON should be concluded immediately. You are requested to make Spiritual Sky a separate entity and apart from ISKCON at the earliest possible.
It is also considered that if a suitable price can be gotten for the business, then it may be sold.
I hope this meets you in good health.

Your servants,
[signed]
Brahmananda Swami
[signed]
Bali Mardan das Adhikary
[signed]
Bhagavan das Adhikary
Approved:


ACBS