741113 - Letter to Deoji Punja written from Bombay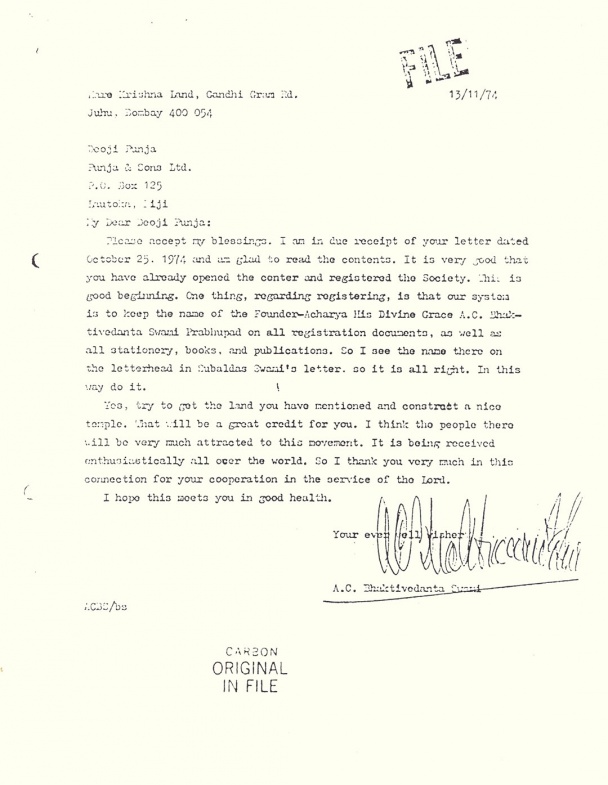 13/11/74
Hare Krishna Land, Gandhi Gram Rd.
Juhu, Bombay 400 054

Deoji Punja
Punja & Sons Ltd.
P.O. box 125
Lautoka, Fiji
My Dear Deoji Punja:
Please accept my blessings. I am in due receipt of your letter dated October 25, 1974 and am glad to read the contents. It is very good that you have already opened the center and registered the Society. This is good beginning. One thing, regarding registering, is that our system is to keep the name of the Founder-Acarya His Divine Grace A.C. Bhaktivedanta Swami Prabhupad on all registration documents, as well as all stationery, books, and publications. So I see the name there on the letterhead in Subaldas Swami's letter, so it is all right. In this way do it.
Yes, try to get the land you have mentioned and construct a nice temple. That will be a great credit for you. I think the people there will be very much attracted to this movement. It is being received enthusiastically all over the world. So I thank you very much in this connection for your cooperation in the service of the Lord.
I hope this meets you in good health.
A.C. Bhaktivedanta Swami
ACBS/bs