741031 - Letter to Hrdayananda written from Bombay
From Vanisource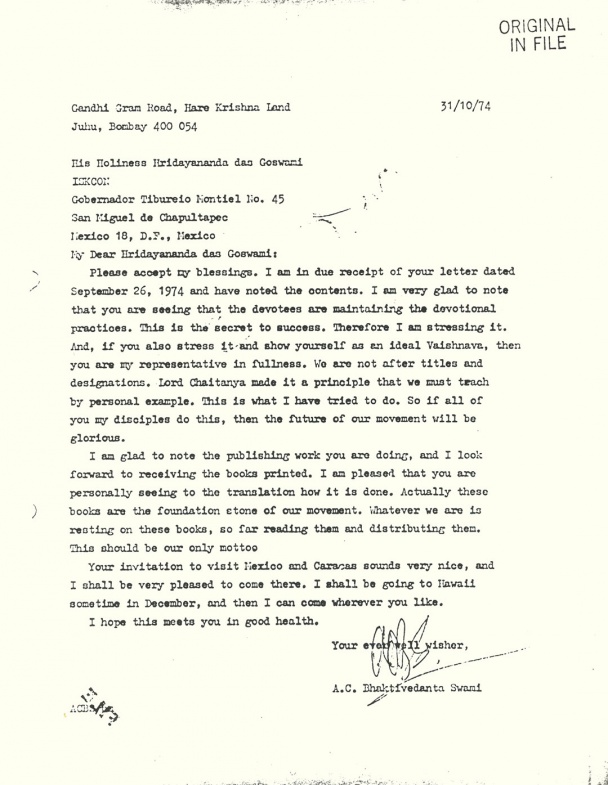 31/10/74
Gandhi Gram Road, Hare Krishna Land
Juhu, Bombay 400 054

His Holiness Hridayananda das Goswami
ISKCON
Gobernador Tibureio Montiel No. 45
San Miguel de Chapultapec
Mexico 18, D.F., Mexico
My Dear Hridayananda das Goswami:
Please accept my blessings. I am in due receipt of your letter dated September 26, 1974 and have noted the contents. I am very glad to note that you are seeing that the devotees are maintaining the devotional practices. This is the secret to success. Therefore I am stressing it. And, if you also stress it and show yourself as an ideal Vaishnava, then you are my representative in fullness. We are not after titles and designations. Lord Chaitanya made it a principle that we must teach by personal example. This is what I have tried to do. So if all of you my disciples do this, then the future of our movement will be glorious.
I am glad to note the publishing work you are doing, and I look forward to receiving the books printed. I am pleased that you are personally seeing to the translation how it is done. Actually these books are the foundation stone of our movement. Whatever we are is resting on these books, so far reading them and distributing them. This should be our only motto.
Your invitation to visit Mexico and Caracas sounds very nice, and I shall be very pleased to come there. I shall be going to Hawaii sometime in December, and then I can come wherever you like.
I hope this meets you in good health.
Your ever well wisher,
     


A.C. Bhaktivedanta Swami
ACBS/bs