Radharani

Krishna

Caitanya

God

God's Holy Names

Krishna Consciousness Movement

Who Is Srila Prabhupada

his Timeline

Months in his Life

Training his Disciples

Questions

Bhagavad-gita

Devotees of God

Devotional Service to God

Discipleship

Guru / Acharya

Essential Subjects

Nectar Drops

What's in Vanipedia now

Glorious Personalities

Yoga

Collaborate with us to invoke and fully manifest Srila Prabhupada's Vani-presence.
---
741017 - Letter 02 to Giriraja written from Mayapur
From Vanisource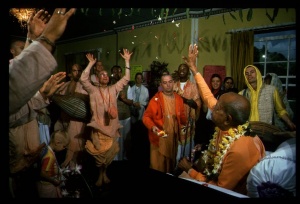 October 17, 1974

Dear Giriraj Prabhu:
Please accept my humble obeisances. I am in do receipt of your registered letter dated October 7, 1974 with enclosed true copy of gift deed and CBI receipt for the fixed deposit certificates. Srila Prabhupad would like to know what is the balance of the Central a/c in American Express Bank. We are expecting that shortly L.A. is to transfer Dollars 40,000.00 in that account, and this money should be kept there until you receive the balance pf that account to date.
Srila Prabhupad had also given to you for deposit into his personal account in CBI Gowlia Tank Branch Dollars 2,000.00; Dollars 1,000 from Tejiyas and Dollars 1,000 from himself; so please report on this. You can send the deposit receipt from the Bank.
Did you receive the copy of the Bhubaneswar gift deed? I sent a photo copy to you. This should be returned to me. Please acknowledge receipt. Let me know if it is necessary for a document form form Geeta Devi Saraf.
Regarding the new Life Membership fee. I understand you compromised with Gargamuni Swami by creating a Patron Membership for Rs. 2222/=, but what are the additional benefits of a Patron Membership? Tejiyas das writes that he is also getting 90% success with the increased fee.
I note that you are ready to accommodate Srila Prabhupad in his come there. In the meantime what about this road that is being constructed? You have not given any report about the intended Government seizure of Hare Krishna Land. What was the results of the hearing?
Do not send Jashomatinandana to Punjab. He should remain in Bamcay and work there.
Enclosed is the letter to CBI regarding the extended Fixed Deposit.
I hope this letter meets you in good health. Jayatirtha was to inform you to send five copies of each book to Calcutta, Gargamuni Swami, to fulfill the Embassy Order gotten by Vrindaban De.
Your servant
Brahmananda Swami
Personal Secretary
Approved: ACBS